Our very popular Lounge Wagon has sold out. We're sorry, but more are on the way!
We are accepting pre-orders now and we'll start shipping again on August 30th. We're sure they will go fast again, so place your pre-order to make sure you get one! Mahalo,
The Lounge Wagon™ by Malo'o is an all-terrain utility wagon that converts to a double chair and umbrella so you can easily haul your gear, then kick back and enjoy your time in the shade.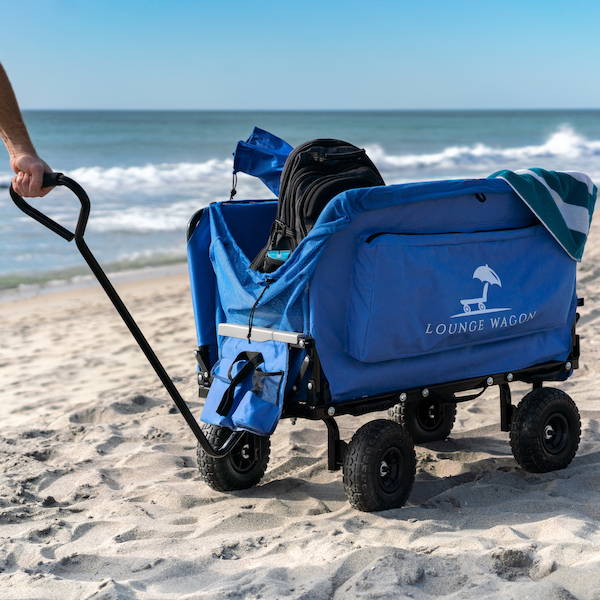 The Lounge Wagon now comes in Gray with matching cargo net and umbrella!
Listen, we get it. Carrying chairs, toys, boogie boards, towels, umbrellas, ice chests, fishing poles, and the little ones can be a challenge. You're either dropping items along the way or making multiple trips. And trying to drag a cart with small tires over sand and uneven ground isn't any better. We knew there had to be a better way, so we created it.
SPECIAL INTRODUCTORY OFFER - WON'T LAST LONG!
Includes shipping in the USA
(reduced shipping elsewhere)
SHIPPING BEGINS AUGUST 30TH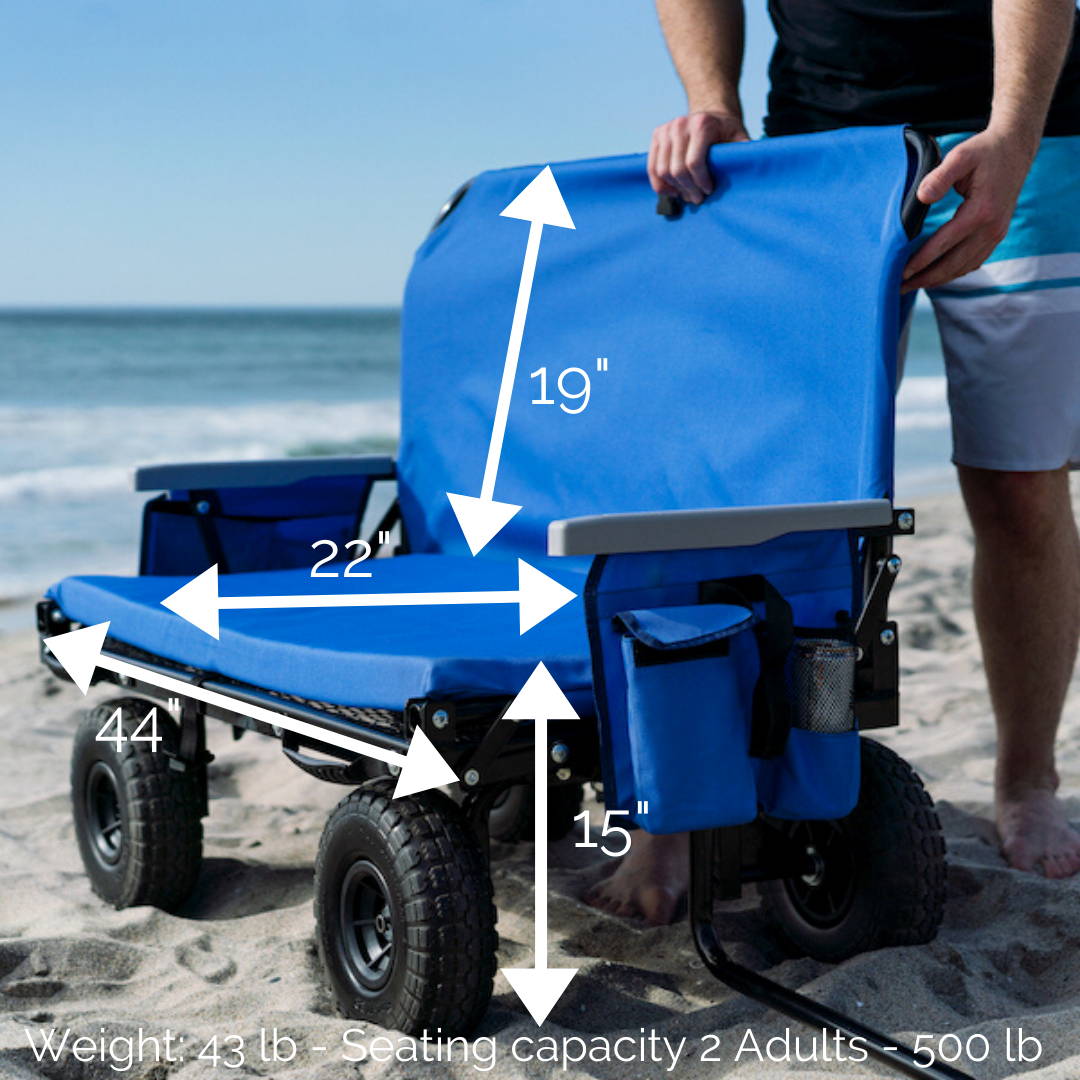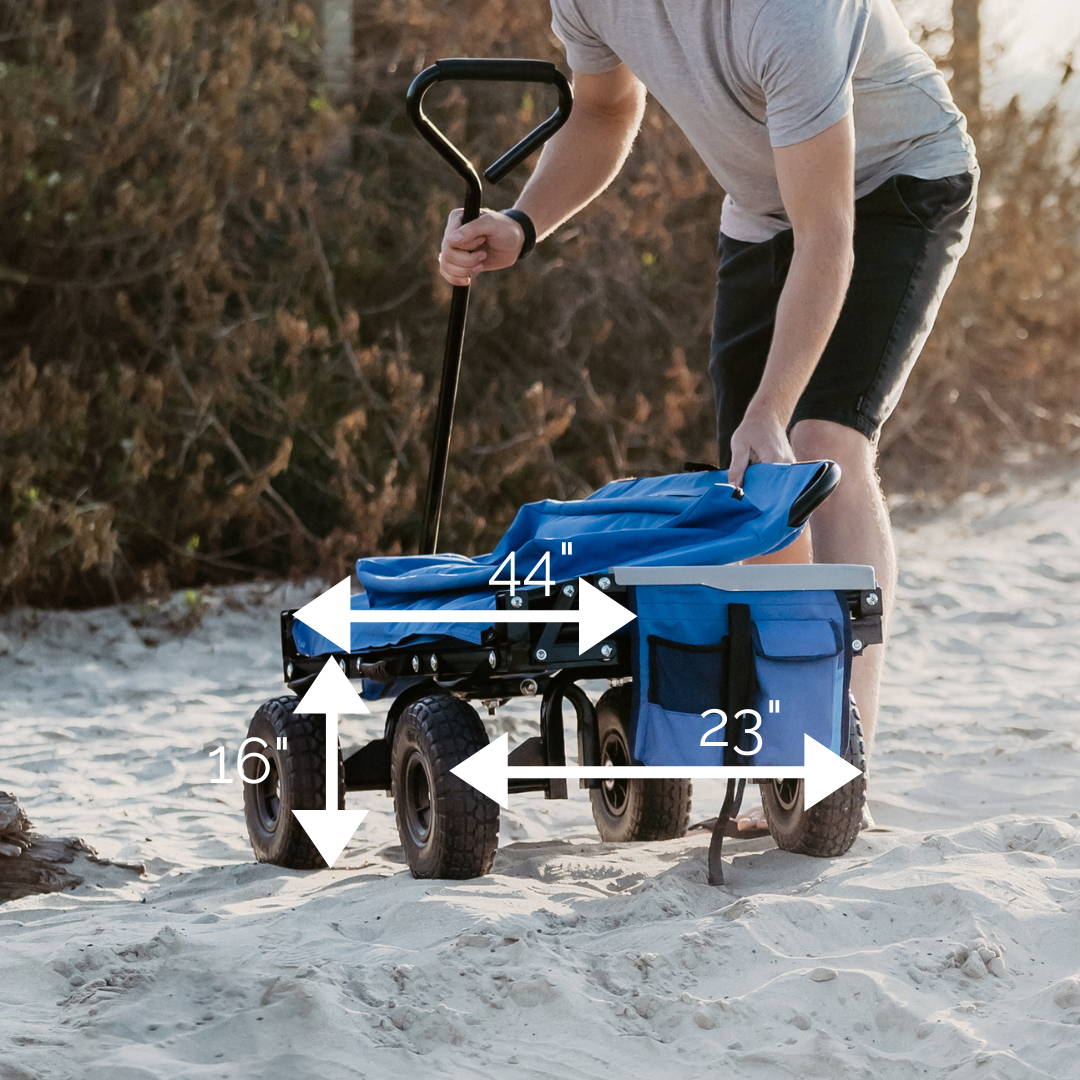 Features:
Blue or Grey

Seating: 2 Adults, 500 lb/226 kg capacity

10"x3" | 25x7.6cm All-Terrain wheels

44"x24"x 16" | 112x61x40cm collapsed - 45 lb/20 kg

44"x22"x34" | 112x56x86cm 0pen

Steel construction | > 11 cubic feet of cargo space

48" x 48" | 122x122cm umbrella with 60" | 152cm extensions

Cargo net, drink holders, large back pocket
---
(Coming Soon) Shipping Available from our Ireland center to:
Austria, Belgium, Bulgaria, Croatia, Cyprus, Czech, Denmark, Estonia, Finland, France, Germany, Greece, Hungary, Ireland, Italy, Latvia, Lithuania, Luxembourg, Malta, Netherlands, Poland, Portugal, Romania, Slovakia, Slovenia, Spain, Sweden, United Kingdom
What Lounge Wagon customers are saying:
"I bought one for myself back in March or April (to my home address in Falmouth, Maine). I used it for the first time (and tagged you in my FB post) and I received so many compliments. I followed your wagon since its beginning on Kickstarter (but waited to buy once I started seeing scams, not knowing who the REAL seller/company was). The two I just bought I plan to give away at my company to employees for a Summer raffle. Hopefully my efforts in buying three Lounge Wagons earns you more sales from others who see them and instantly fall in love as I have." - Kevin M.
"A gift for my son in law/daughter and 3 grandkids. Makes trips to the beach, soccer and baseball fields a piece of cake, especially with a 20 month old. No more trips back and forth from the car!" - Carolyn S.