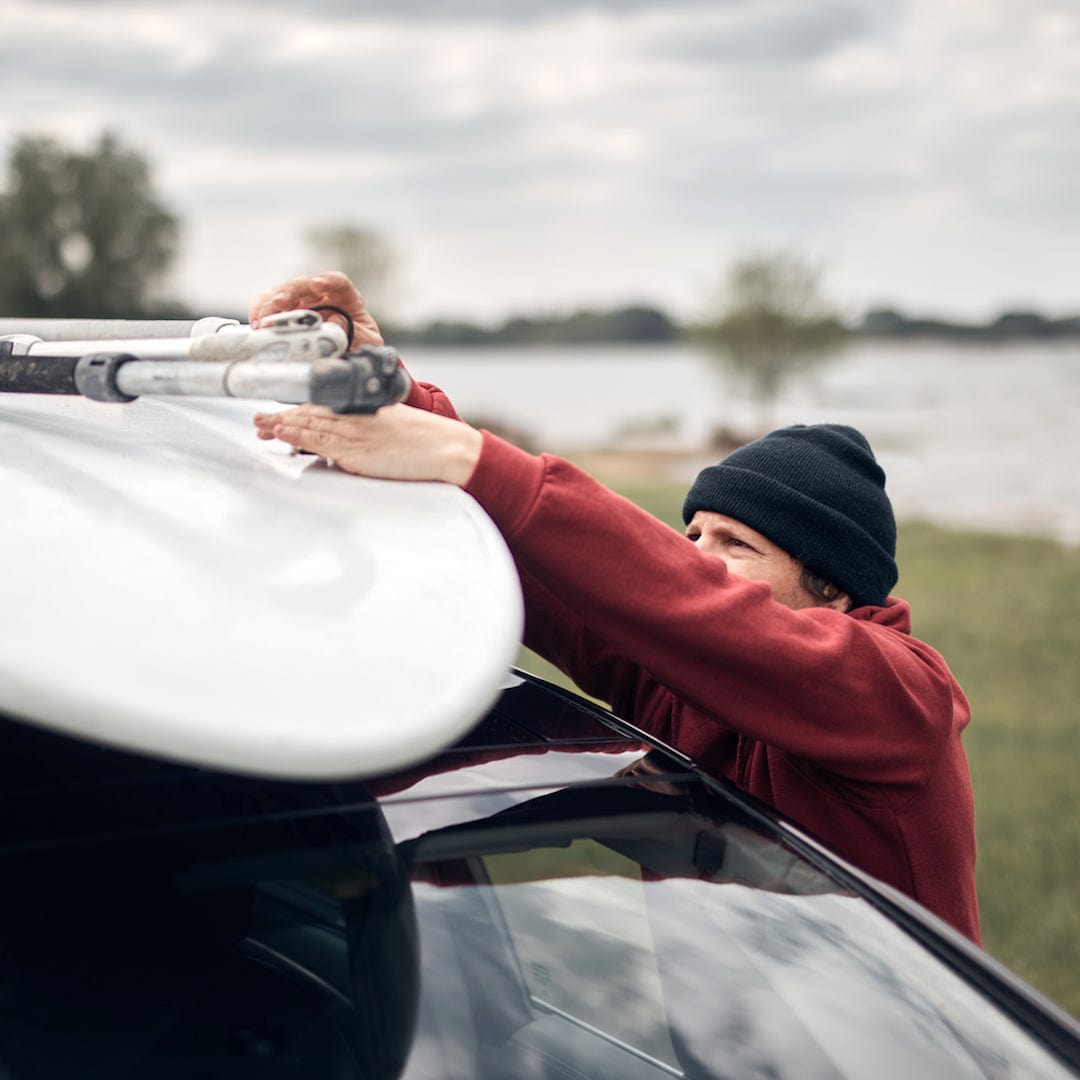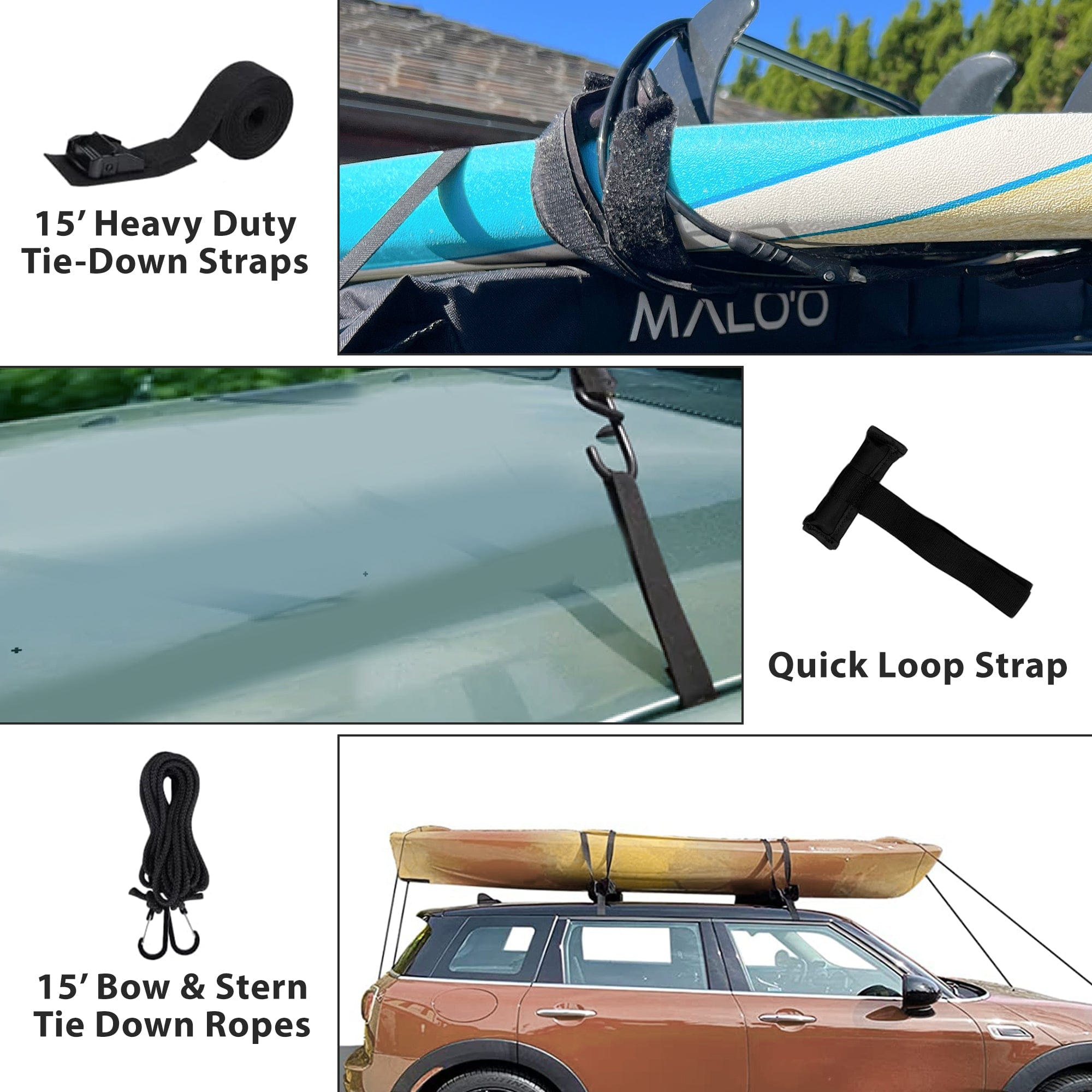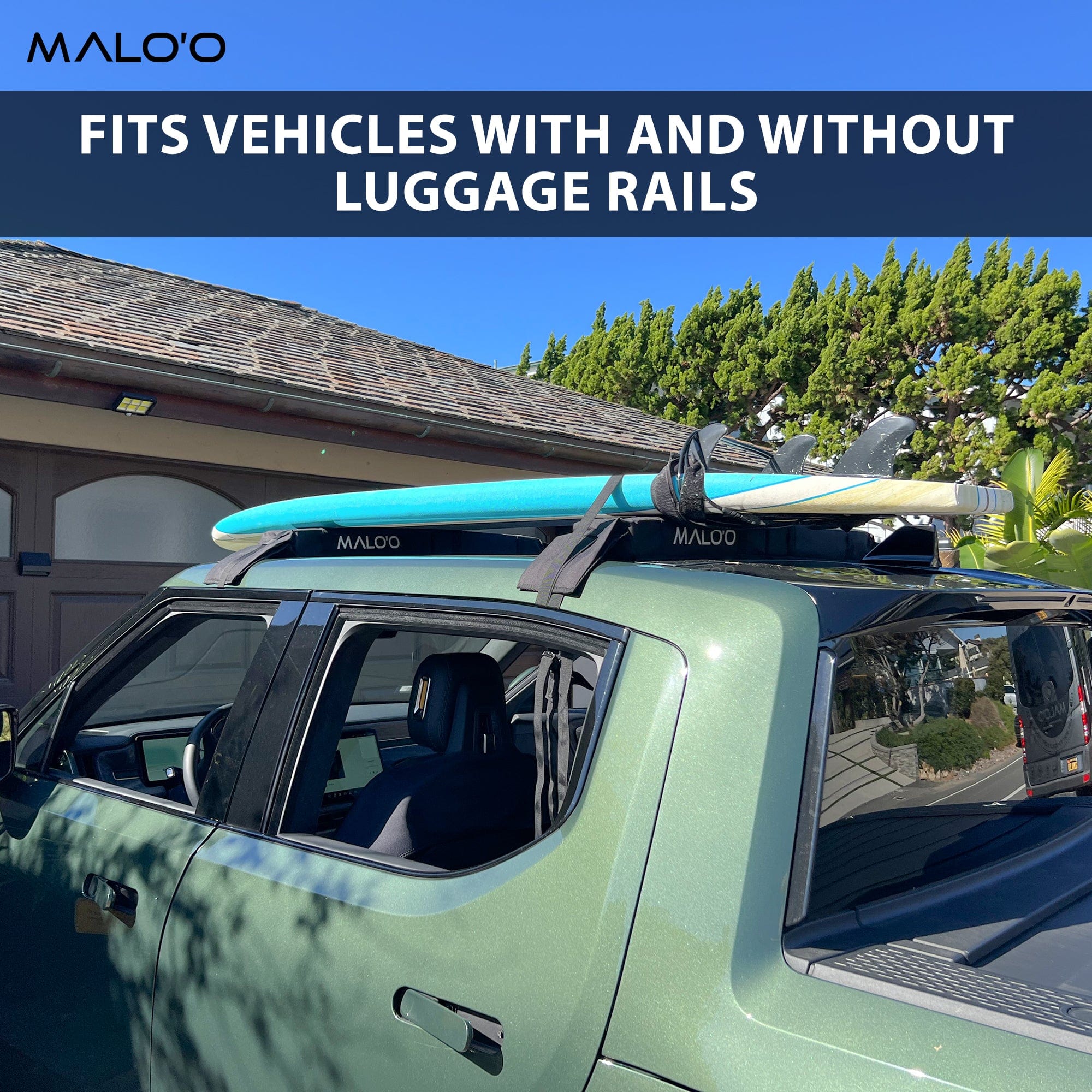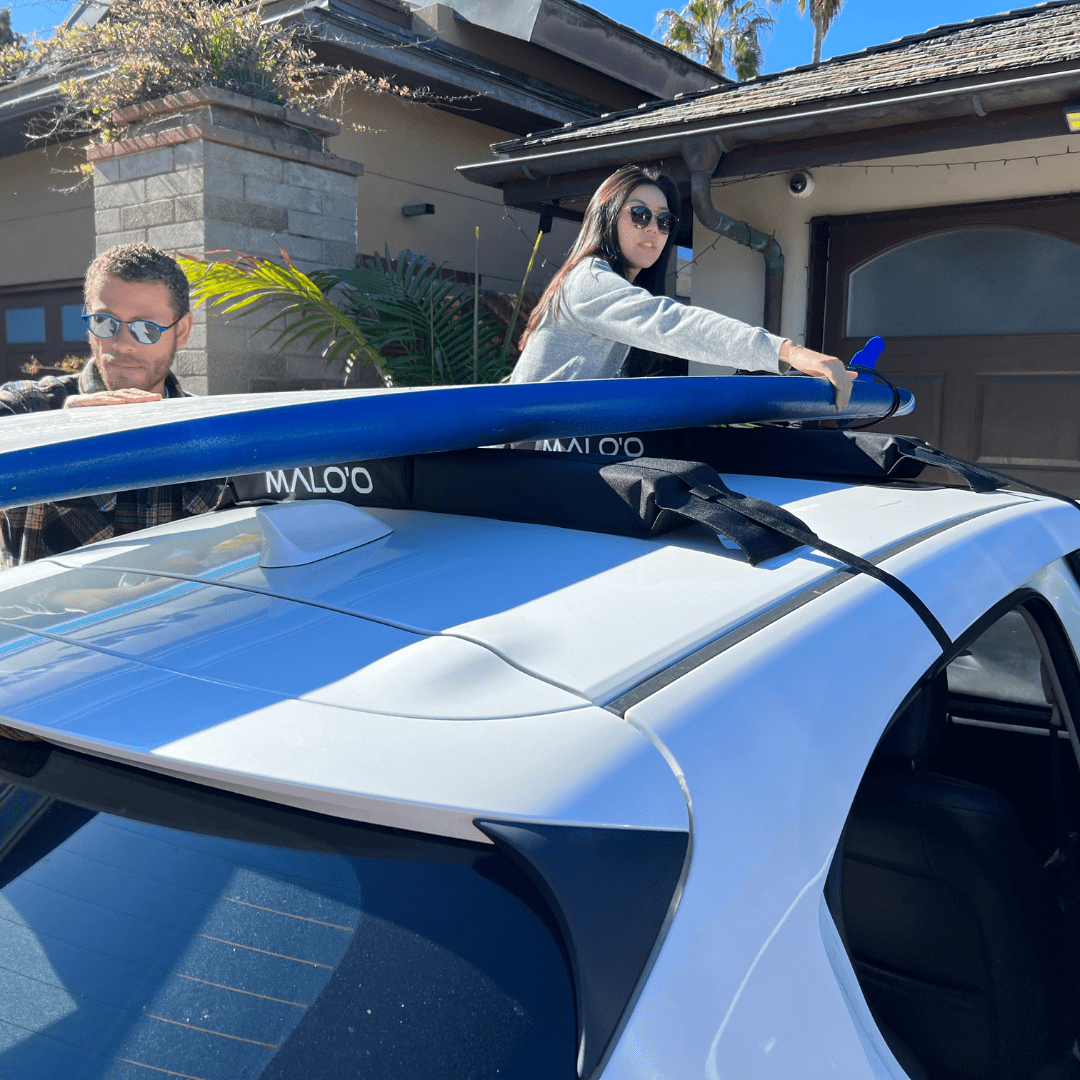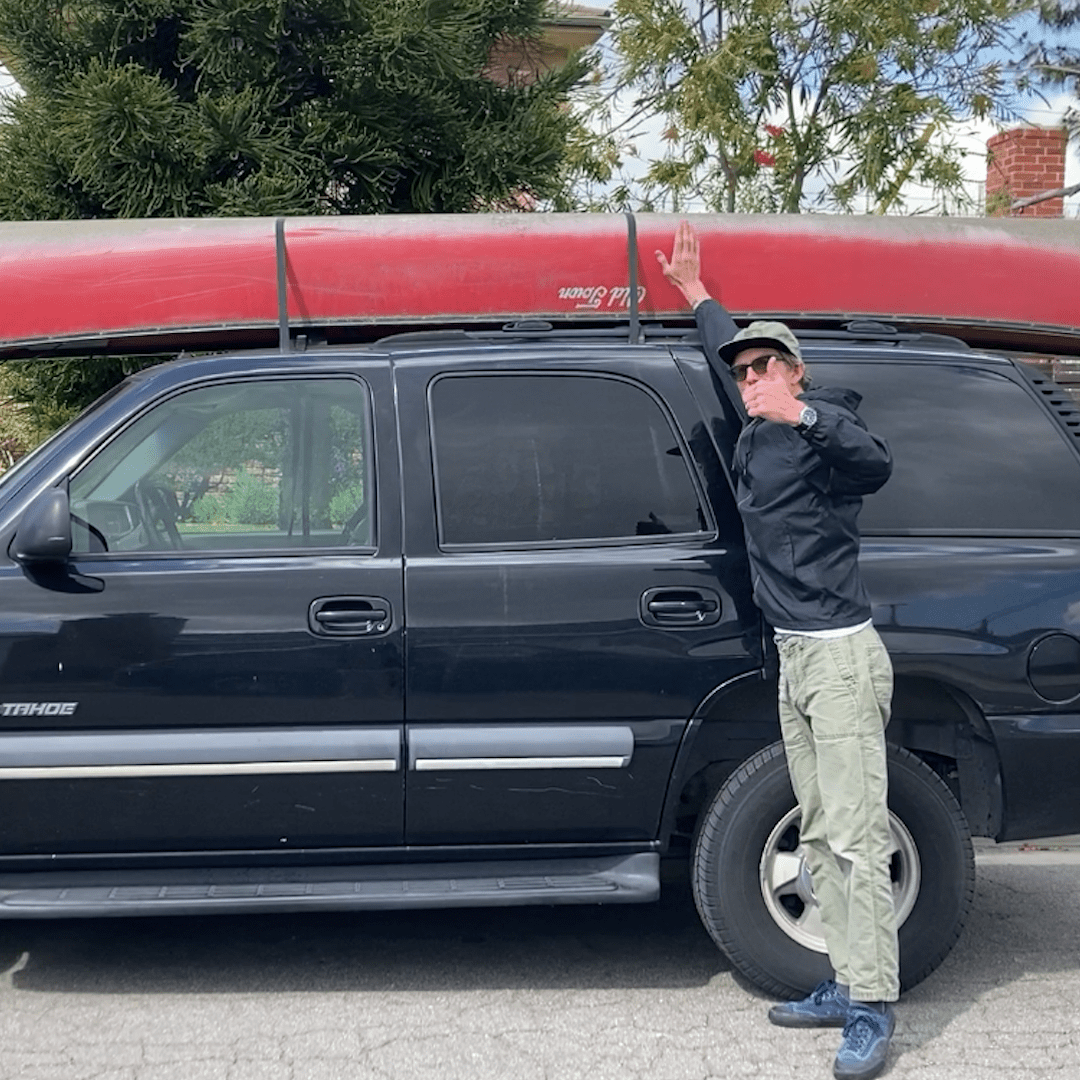 Malo'o Surfboard Roof Rack
DESCRIPTION
The Malo'o Soft Roof Racks offer an affordable solution for transporting your surfboard, paddleboard, kayak, or canoe without the need for expensive roof racks that can cost hundreds of dollars. Measuring 32 inches in length, 4.5 inches in width, and 3 inches in height, these foldable rack pads can be used on cars with or without existing racks. The non-slip pads and heavy-duty straps ensure that the pads remain securely in place on your vehicle.

Included with the rack pads are cargo straps, nose/tail ropes, and other accessories to help you secure your equipment for your vehicle. The installation and removal process is straightforward and comes with instructions. It's important to ensure that your equipment is properly secured before leaving, as damage, injury, or even death can result from improperly installed pads and cargo.

Malo'o Soft Roof Racks are compatible with various gear, including boards, skis, kayaks, and more. These items can be expensive, so it's crucial to take the necessary steps to ensure they remain safe during transportation. With Malo'o Surfboard Rood Rack, you can transport your gear with confidence while also saving money.
- Pad is 32" long, 5.5" wide
- Rood Rack is 43" wide including ends
- Non-Slip, Non-Scratch PVC leather bottom
- Fits vehicles with or without rood rails
- 100 lbs. capacity
- EPE foam core, 600D nylon fabric exterior
- Safe, No Scratch straps
- Carry surfboard, SUP, canoe, kayak, ski, snowboard, and more
see instructions in images on this page
WetHoodie™
The Malo'o WetHoodie™ is a newly designed and patented fishing apparel item that's perfect for keeping fishermen warm and dry. This innovative fishing hoodie combines the features of a wetsuit with a hoodie to protect you while fishing, hunting, or trapping. The body of the hoodie is designed to keep you warm, while the sleeves are made of 2mm neoprene, providing water insulation just like a wetsuit.

The sleeves are tapered at the wrist to prevent water from getting in and are loose above the elbow for comfortable movement. There's a pouch on the front for easy access to your tools and magnetic snaps to use with gloves, making it the perfect addition to your cold-weather fishing gear.

Whether you're fishing in Montana, trapping in Alaska, or canoeing in New England, the Malo'o WetHoodie™ will keep you warm and protected from the elements.
SurfParka
Introducing the Malo'o SurfParka - a waterproof and windproof parka jacket that's perfect for changing clothes at the beach, lake, or mountains. No more struggling with a towel around your waist when you can wear the SurfParka instead.

The Malo'o SurfParka is designed to keep you warm and comfortable while you change in and out of your wetsuit, hoodie, or booties. There are two sizes and the design allows you to easily change without worrying about exposing yourself. You can even wear it while driving home after a chilly day in the water!

This eco-friendly parka is lined with recycled polyester sherpa fleece made from 100% recycled post-consumer materials, including the sleeves, to keep you cozy. The exterior is made of waterproof and windproof recycled polyester, with two large front pockets for storage. The recycled materials are made from used water bottles and help us keep them from our oceans. The 2-way all-weather zipper makes it easy to zip up tight and keep the elements out.(image by Kylie Shields)