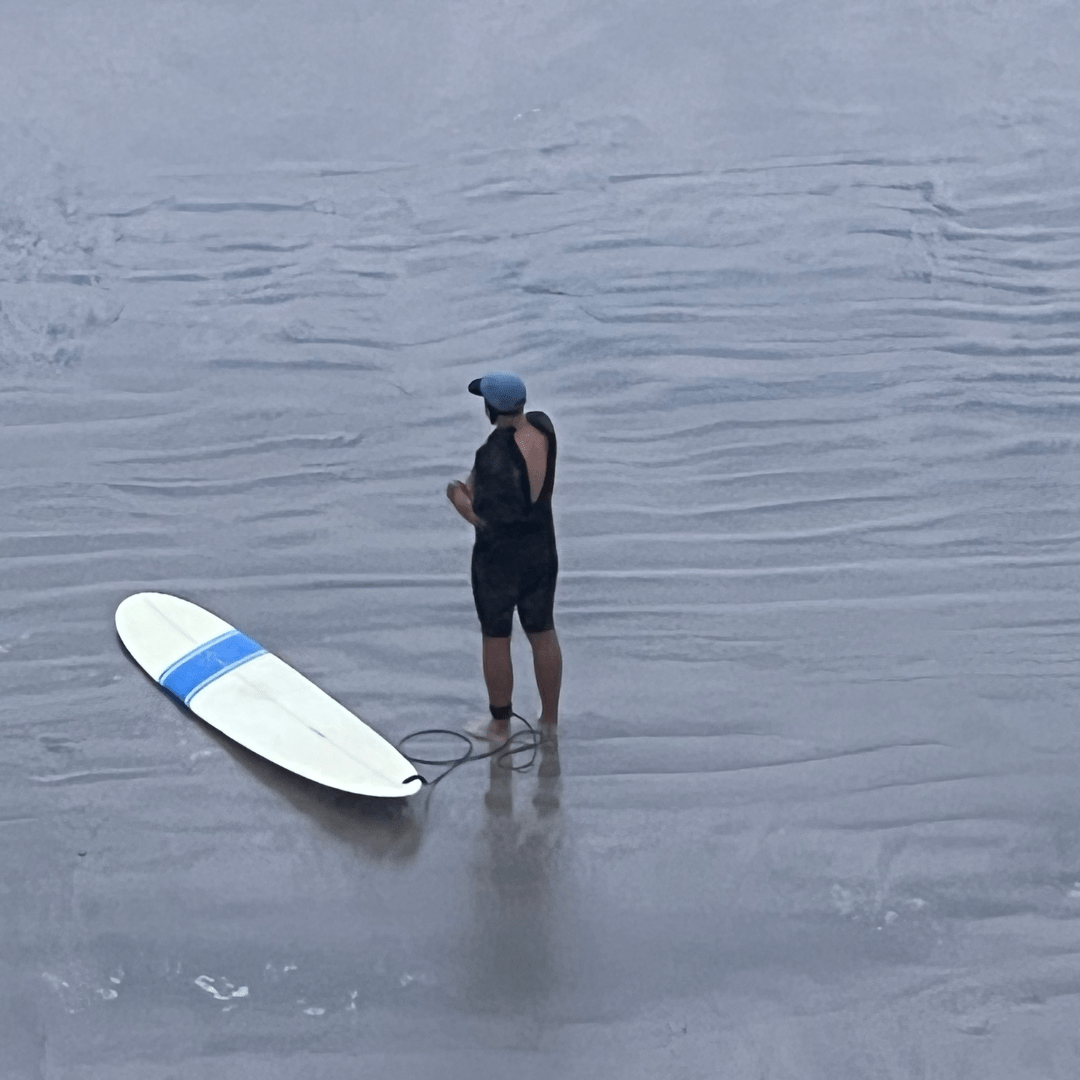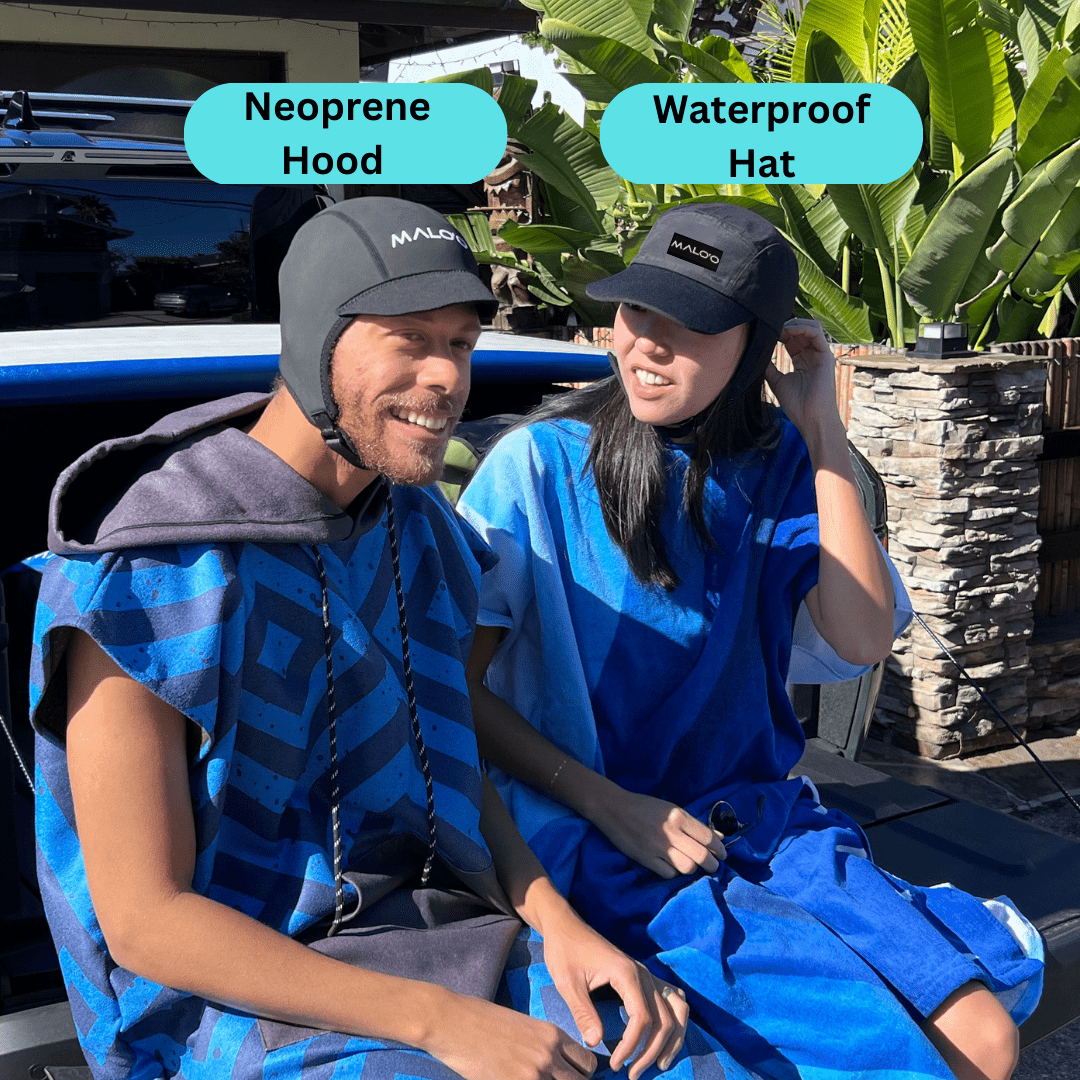 Malo'o Papale Watersports Hat
DESCRIPTION
Aloha! The Malo'o Hat is the ultimate water companion, providing you warmth in chilly weather, shielding you from the sun and discomfort in hot weather, and even protecting your ears from the wind. We've tried many hats and found that one-size-fits-all just doesn't cut it. So, we created our very own Watersports Hat, designed for optimal comfort and function.

The adjustable waterproof polyester outer shell ensures a snug fit, while the soft polyester headband and chin strap keep your ears cozy in multiple positions. You'll feel comfortable and cozy as soon as you put it on! We even went the extra mile to perfect the bill design. Our 4mm 3" neoprene bill is flexible enough for diving and strong enough to keep water from dripping into your eyes, while also providing some sun protection.

Available in classic black and cool blue, the Malo'o Watersports Hat comes in two sizes to ensure a perfect fit for everyone. So, whether you're catching waves or casting your line, the Malo'o Hat lets you stay in the water longer, protecting you from ear infections, and brain freeze, and regulating your body temperature. Don't let discomfort ruin your water adventures, get your Malo'o Watersports Hat today!


Customize Your Papale: The brim is 4mm neoprene and you can cut it to adjust the bill to any length you like!
- Medium & Large, See size chart
- 5-panel adjustable waterproof shell
- 4mm neoprene flexible brim
- Adjustable ear covering chin strap for a comfortable fit

- Place the hat on your head
- Run the velcro strap through the plastic loop
- Pull tight and press the velcro together
- Adjust the size if necessary
Care: Rinse after use with cold water and air dry
WetHoodie™
The Malo'o WetHoodie™ is a newly designed and patented fishing apparel item that's perfect for keeping fishermen warm and dry. This innovative fishing hoodie combines the features of a wetsuit with a hoodie to protect you while fishing, hunting, or trapping. The body of the hoodie is designed to keep you warm, while the sleeves are made of 2mm neoprene, providing water insulation just like a wetsuit.

The sleeves are tapered at the wrist to prevent water from getting in and are loose above the elbow for comfortable movement. There's a pouch on the front for easy access to your tools and magnetic snaps to use with gloves, making it the perfect addition to your cold-weather fishing gear.

Whether you're fishing in Montana, trapping in Alaska, or canoeing in New England, the Malo'o WetHoodie™ will keep you warm and protected from the elements.
SurfParka
Introducing the Malo'o SurfParka - a waterproof and windproof parka jacket that's perfect for changing clothes at the beach, lake, or mountains. No more struggling with a towel around your waist when you can wear the SurfParka instead.

The Malo'o SurfParka is designed to keep you warm and comfortable while you change in and out of your wetsuit, hoodie, or booties. There are two sizes and the design allows you to easily change without worrying about exposing yourself. You can even wear it while driving home after a chilly day in the water!

This eco-friendly parka is lined with recycled polyester sherpa fleece made from 100% recycled post-consumer materials, including the sleeves, to keep you cozy. The exterior is made of waterproof and windproof recycled polyester, with two large front pockets for storage. The recycled materials are made from used water bottles and help us keep them from our oceans. The 2-way all-weather zipper makes it easy to zip up tight and keep the elements out.(image by Kylie Shields)