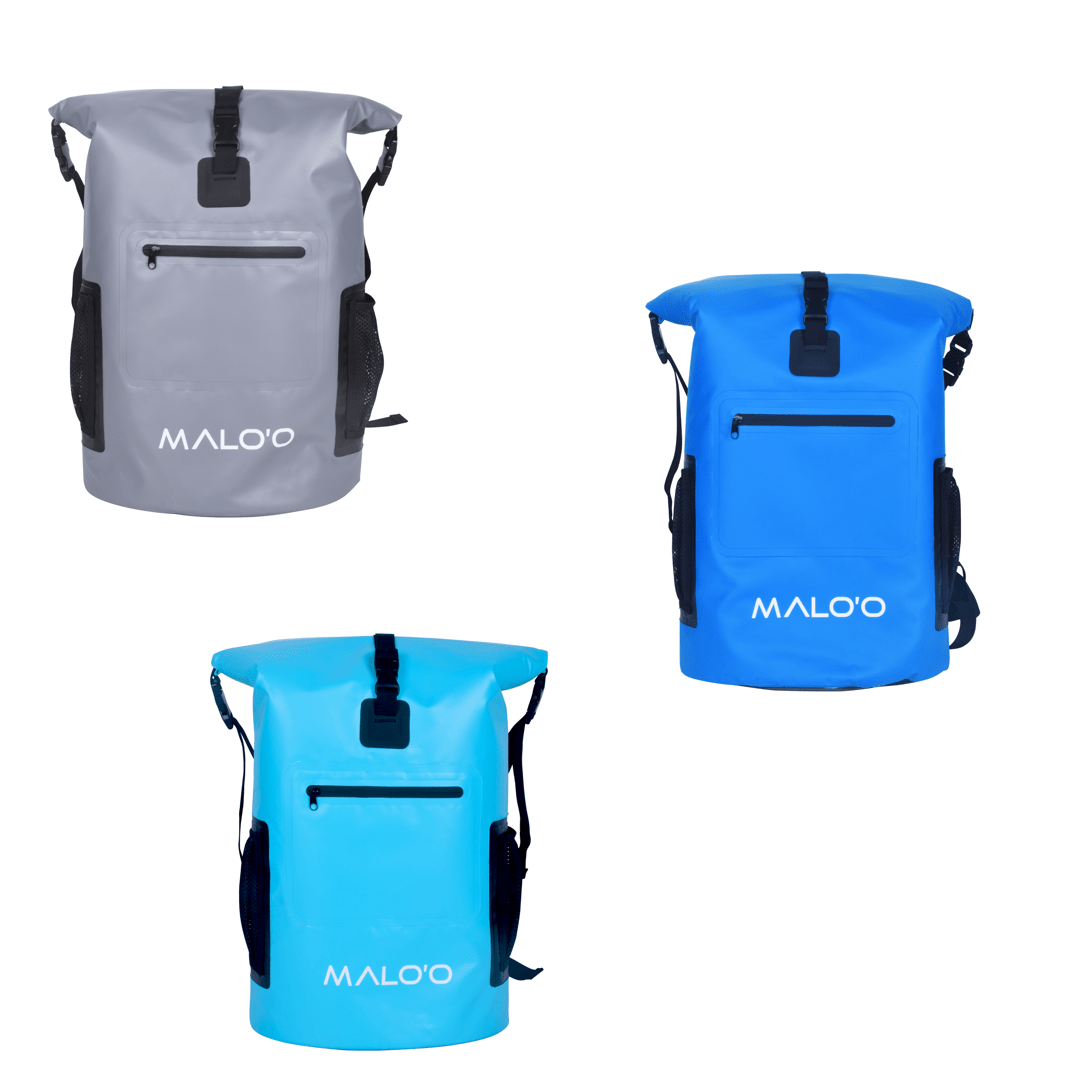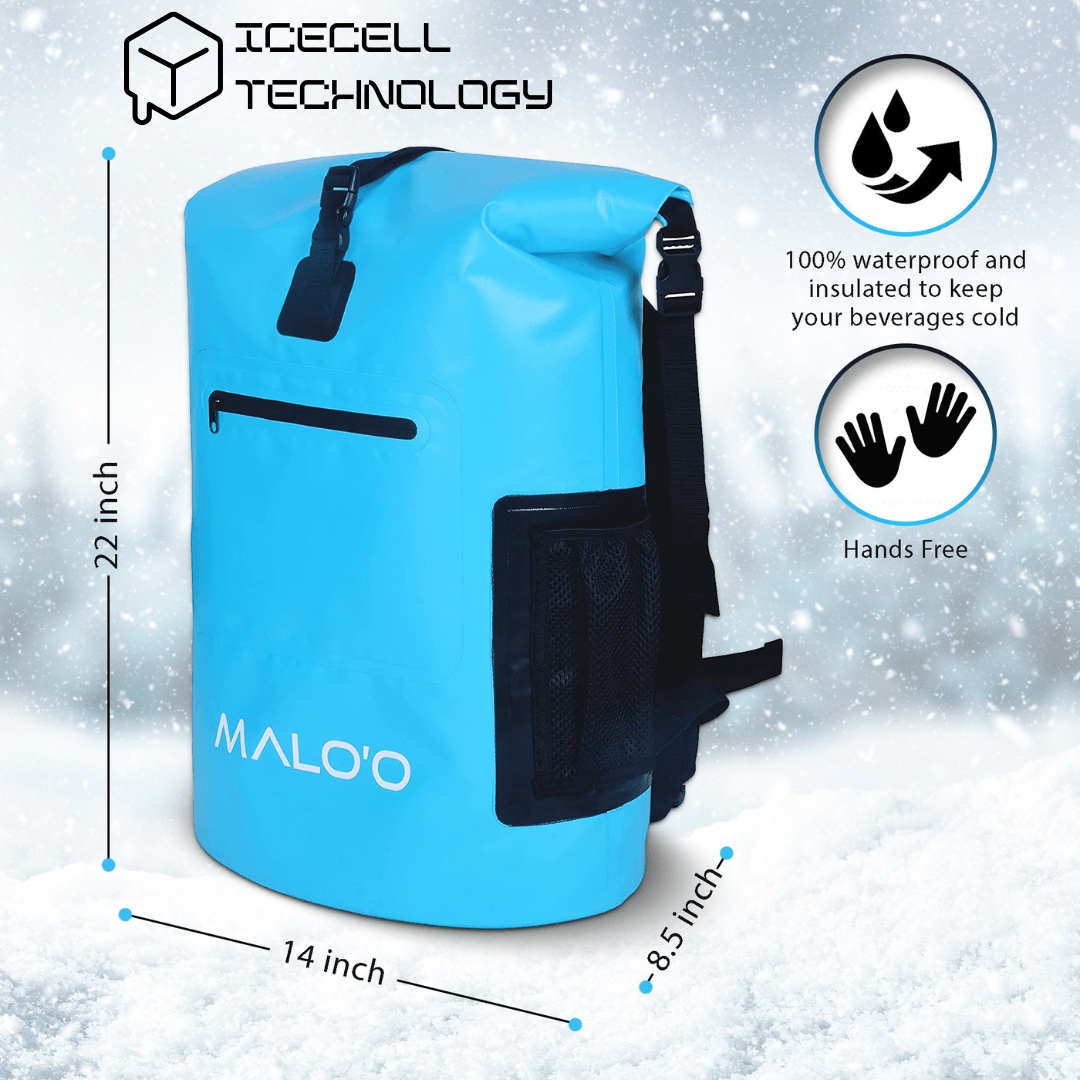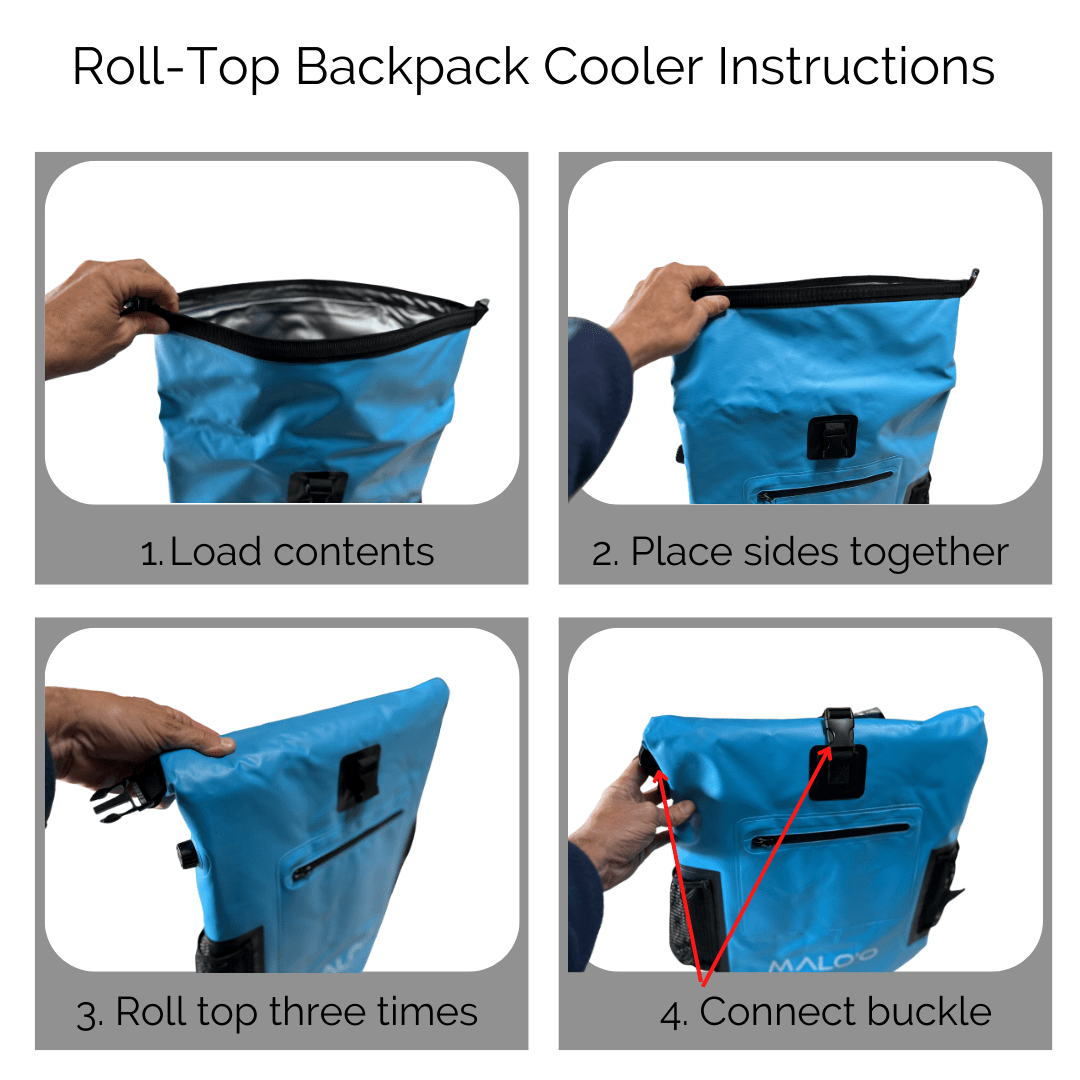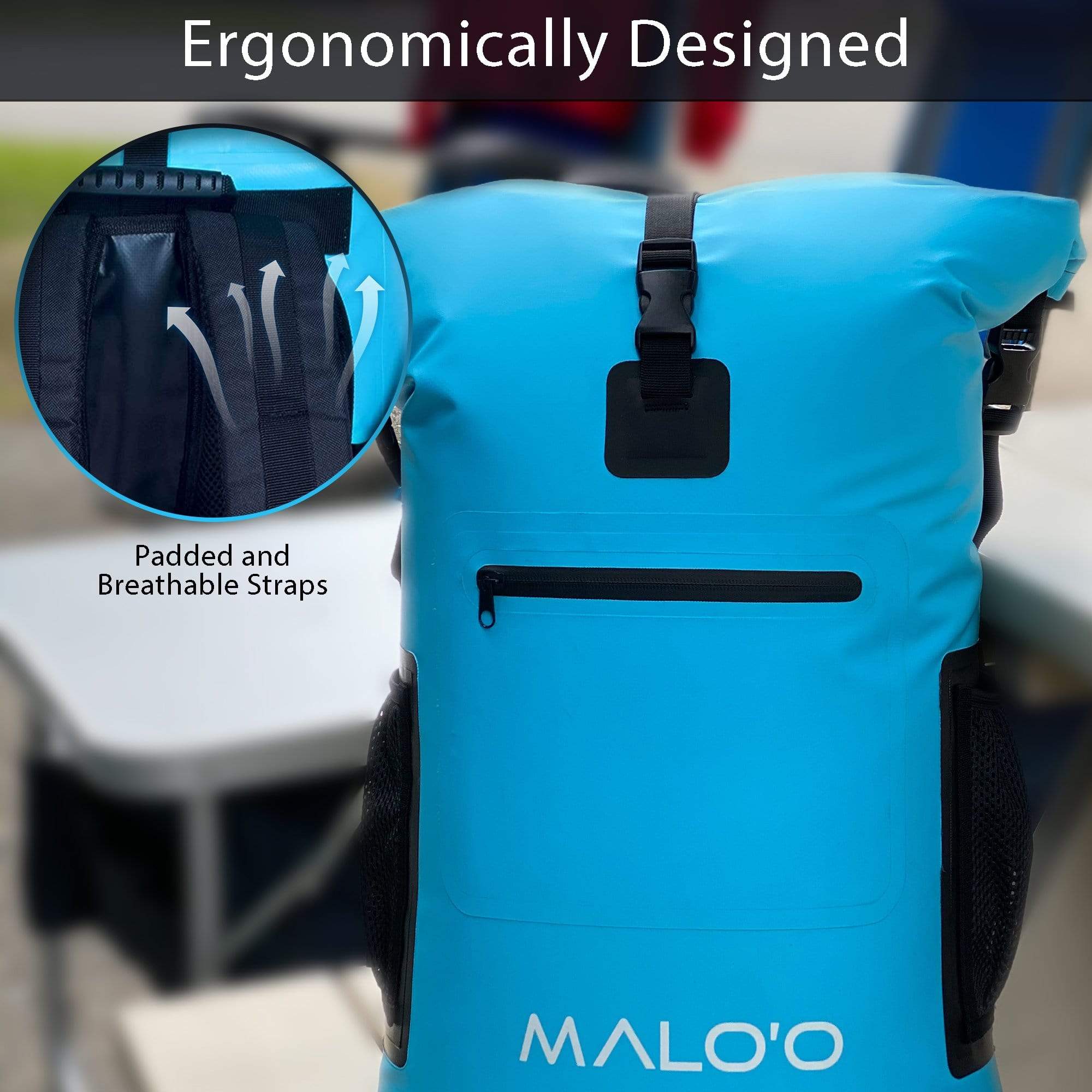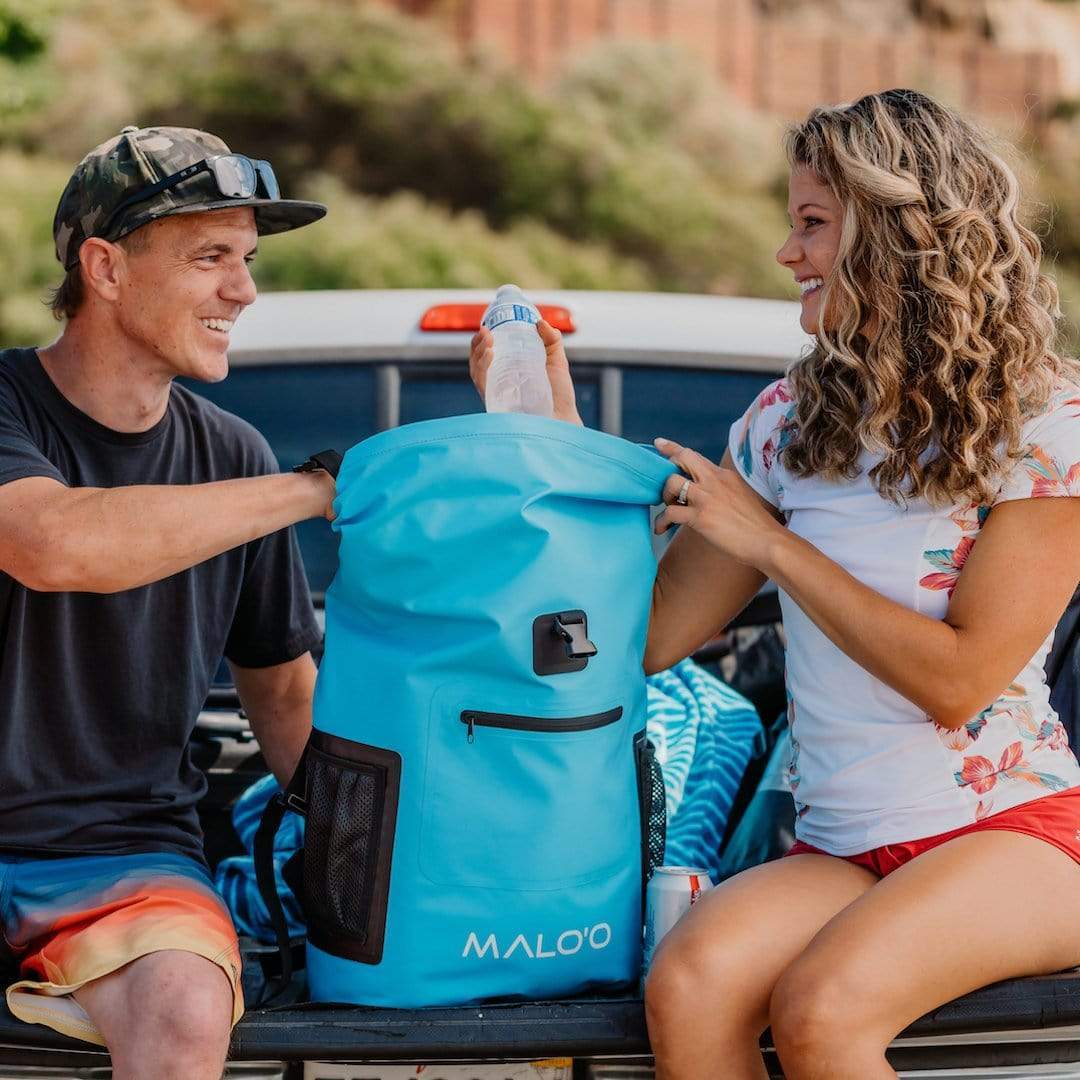 DESCRIPTION
CARRY YOUR COOLER OR DRY BAG ANYWHERE

The Malo'o DryPack Backpack Cooler with IceCell™ insulation is a versatile bag that keeps your drinks cold or your gear dry on your outdoor adventures. It can be used as a cooler to keep your drinks cold or a dry bag to protect your gear, snacks, and electronics from water.

Whether you're going fishing, camping, kayaking, boating, hunting, hiking, or to the beach, the Malo'o Backpack Cooler is a simple and smart way to carry your essentials. With a capacity of 24 cans (18 bottles) and ice, this backpack cooler is large enough for any adventure. It's comfortable to wear as a backpack and keeps your hands free for other tasks.

The Malo'o Backpack Cooler is a reliable cooler bag that is perfect for outdoor enthusiasts. It keeps your drinks cold for longer and ensures that your gear stays dry even in wet conditions. So, take it along with you on your next adventure and enjoy the convenience it provides.



- 30L (8 Gallon) capacity fits 24 cans or 18 bottles plus ice
- Durable 500D PVC material, 25"x12"x9", 4lbs.
- 2 Large mesh drink bottle pockets
- 3 sections padded back supports, padded shoulder straps, chest strap, and waist strap
- Dual-use, durable soft cooler or dry bag worn as a comfortable backpack
- A convenient front pocket keeps your phone, keys, and wallet safe and separate from the main bag for easy access
- IceCell insulation keeps ice for 12-72 hours (varies depending on the amount of ice, temperatures, etc.)
- Hands-Free - designed to be carried on your back leaving your hands for other things.
- After putting items inside, align the top sides together
- Roll the top into itself three times
- Reduce air inside through a relief valve
- Attach rolled top to side buckles, then attach the top-over buckle

Warning- Do not place the Dry Bag on rough or sharp surfaces as it could puncture the bag.
I love the look and
I needed a canopy for the kids at the beach this summer and it worked great but then I thought I'd try it on my Transit van. I was a little skeptical of it, but sure enough, after figuring out where to place the suction cups and which poles to use, it was great! I highly recommend it.
Best cooler. Fly fishing.
I love the look and feel of the backpack. The size is perfect for the amount of things my family usually requires when we use a cooler and it's comfortable to carry.
Backpack Cooler
I've owned several other backpack cooler is over the years and found that none compare to the Malo'o. All others leak and or cannot withstand the punishment a backpack cooker can experience is rough environments. I'm looking forward to buying other products from Malo'o
Backpack cooler review
Very well constructed and performs exactly as described. Would highly recommend
Backpack cooler
Backpack is made well, overall it's pretty bomb. I wish the straps were more more comfortable when not earing a shirt.