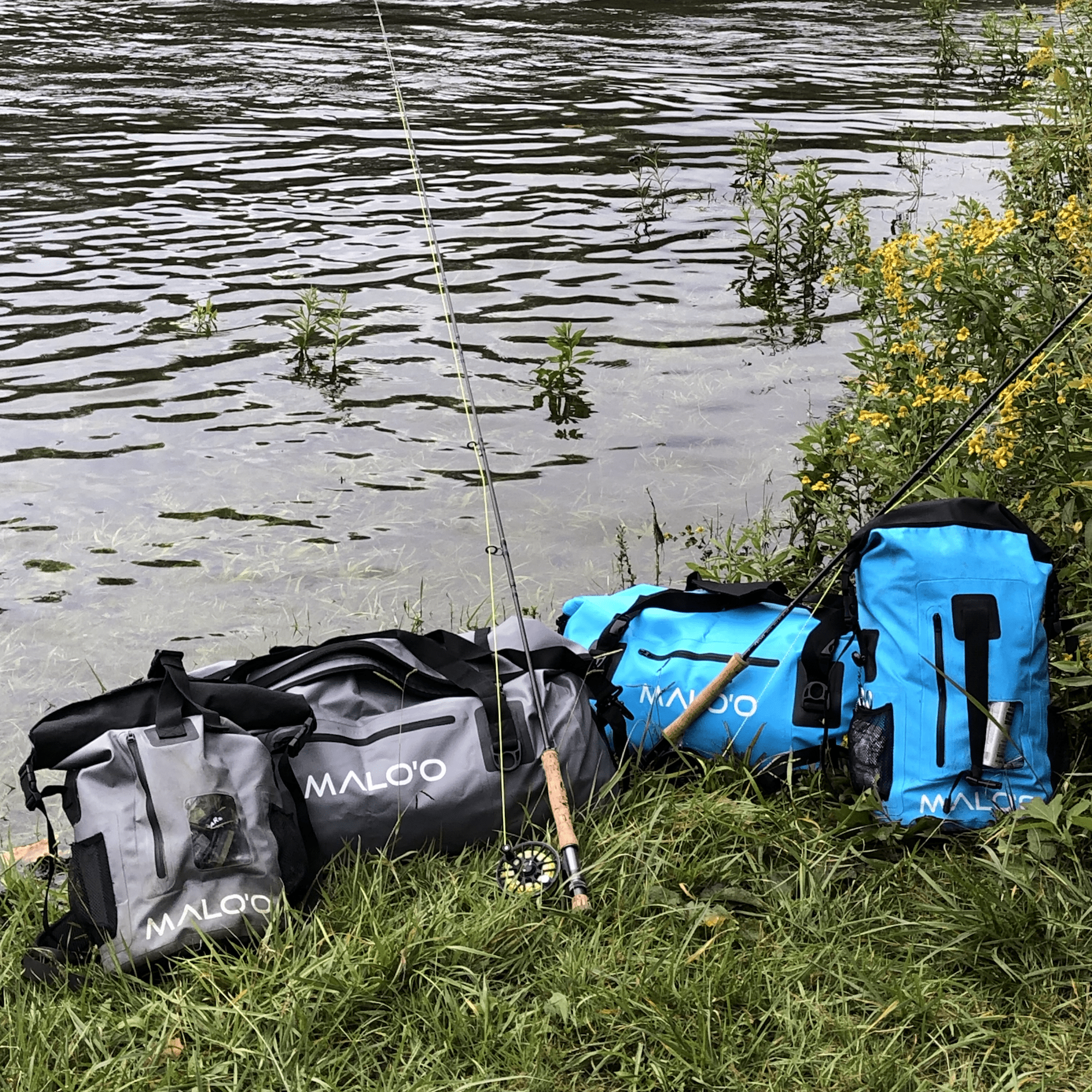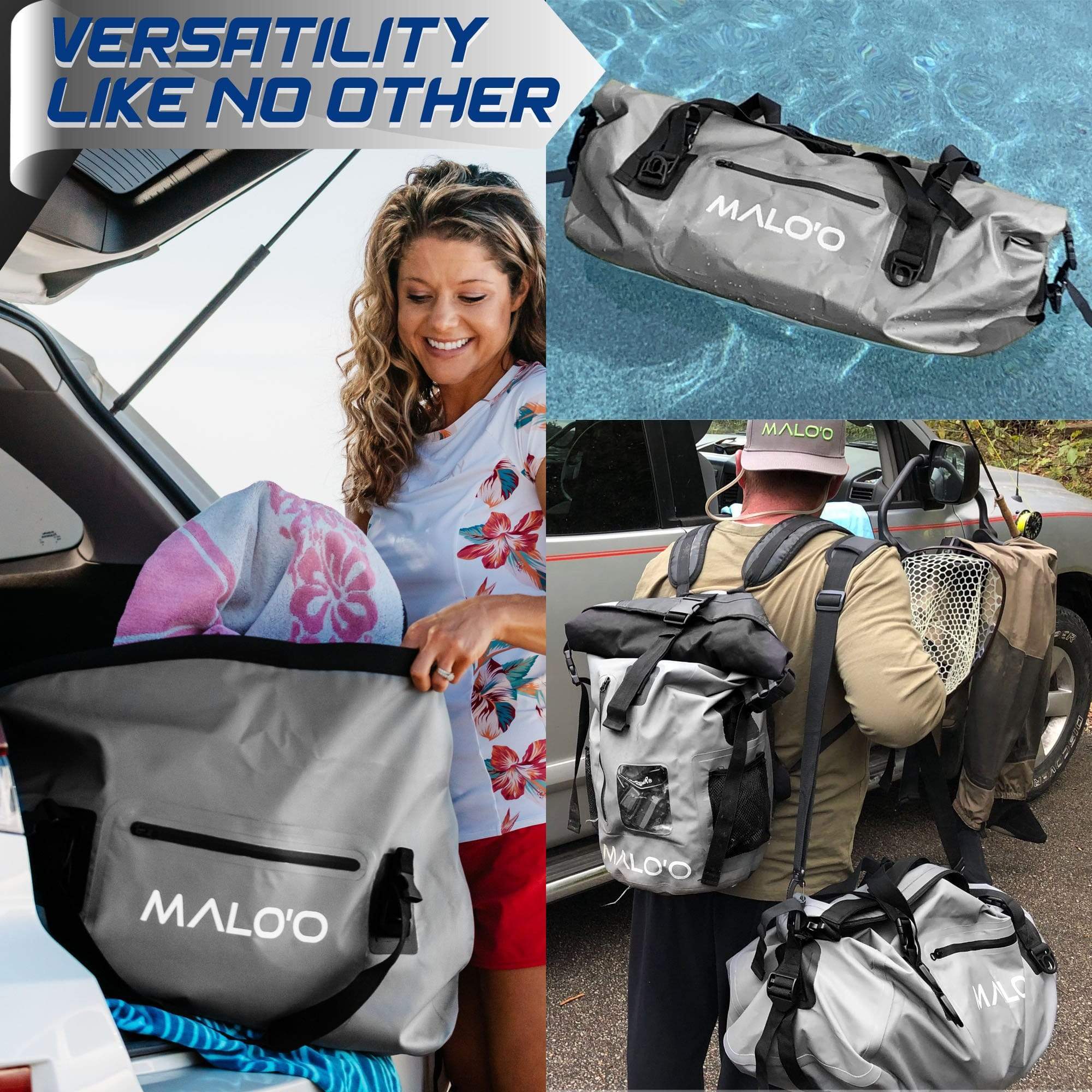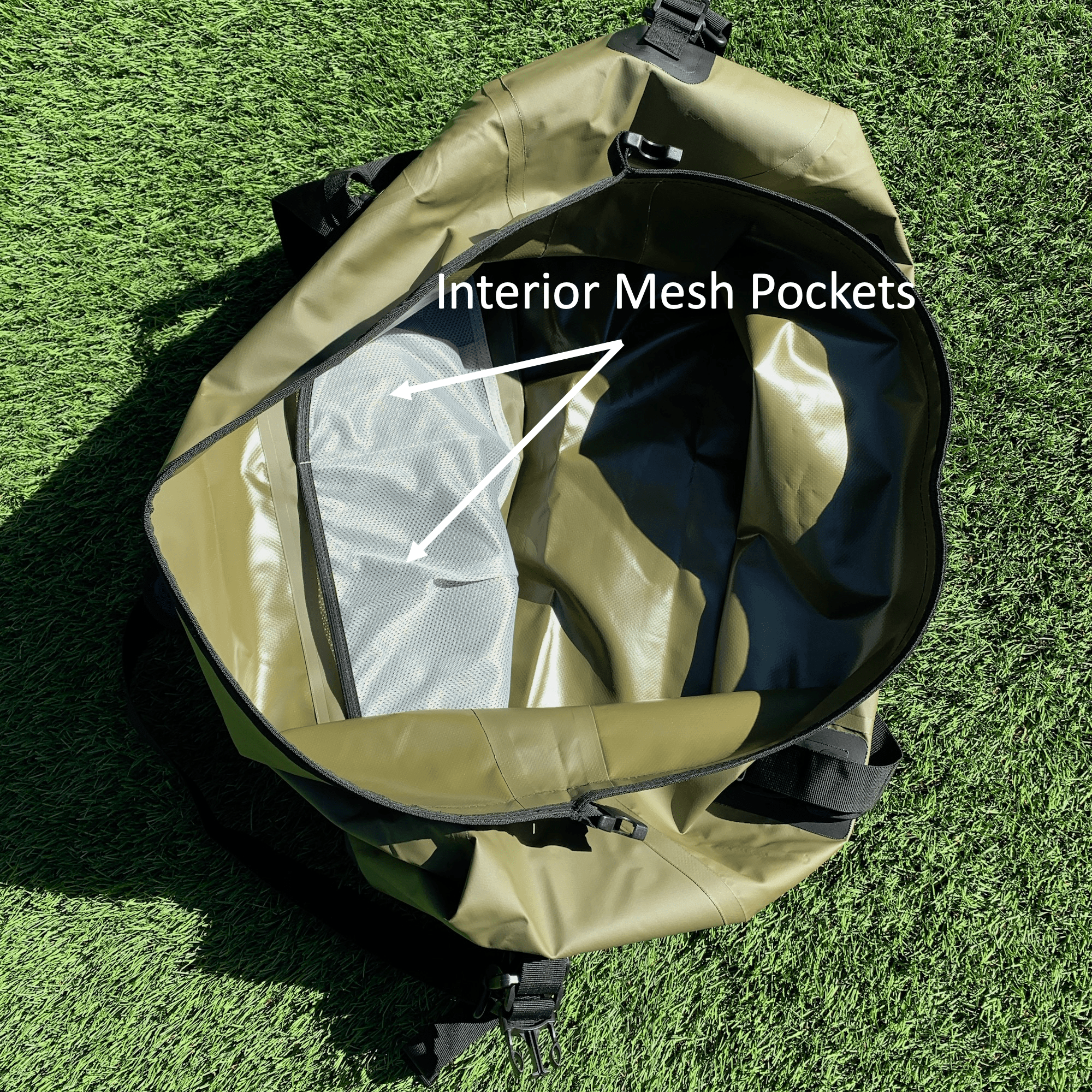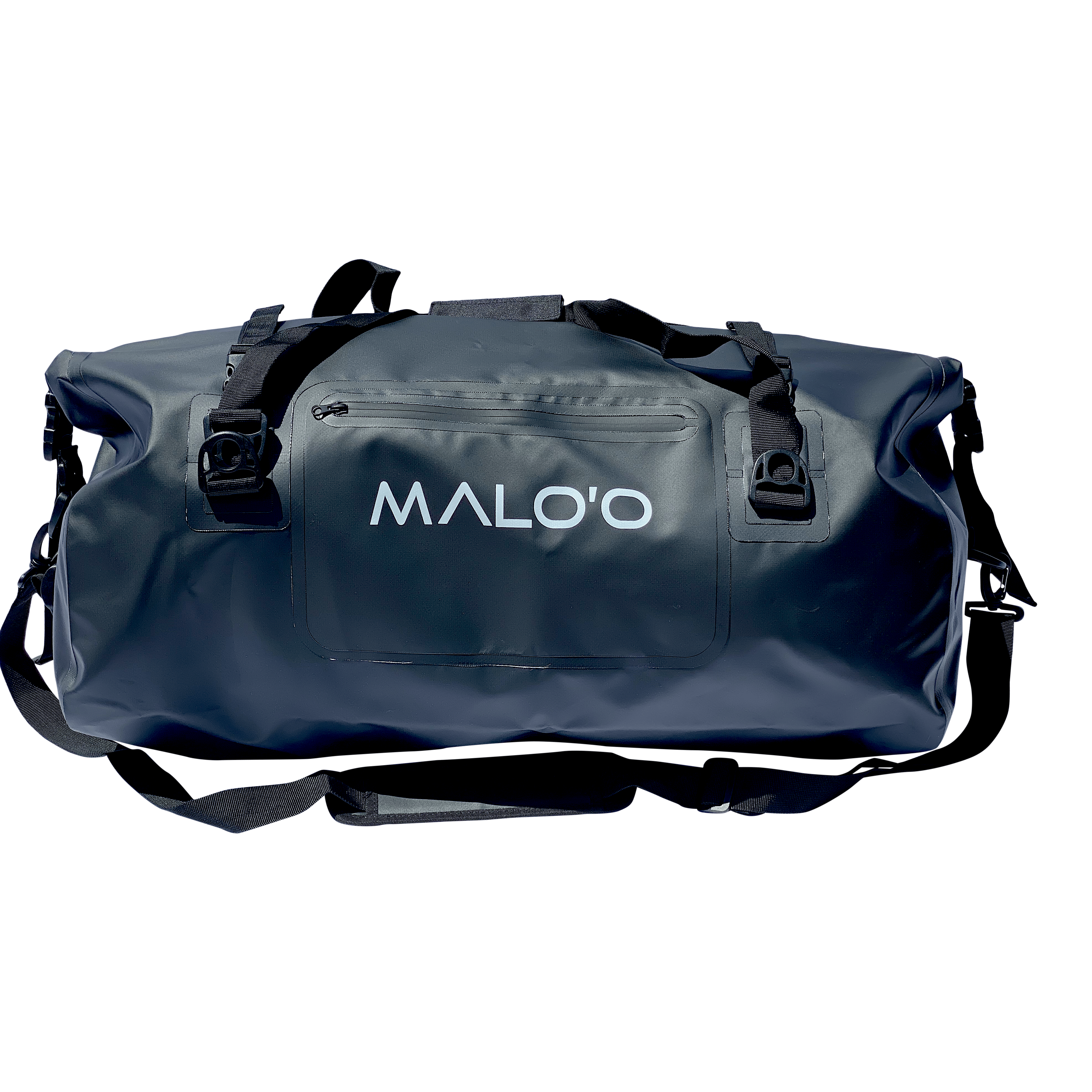 DryPack 40-60-100 Liter Waterproof Roll-Top Duffle Bag
DESCRIPTION
THE SMART WAY TO KEEP IT ALL DRY!

The Malo'o DryPack Waterproof Roll Top Duffle Bags are perfect for keeping all of your gear, snacks, and electronics dry while on exciting adventures. Whether you're planning to surf, fish, camp, paddleboard, kayak, canoe, snowboard, hike, or any other outdoor activity that involves water or snow, it's important to have a reliable waterproof bag.

The Malo'o Waterproof Duffle bag is made from high-quality materials that are both light and durable, and its roll-top design offers IPX6 waterproof protection, which means it can withstand harsh weather conditions. Constructed using commercial-grade 500D PVC, this waterproof bag has thermo-welded seams to ensure it stays watertight even in the most extreme conditions.

The Malo'o DryPack Duffle bag comes in three sizes (40L, 60L, and 100L) so you can choose the perfect size for your needs. It also features a large water-resistant front pocket for your quick-access items and two internal netted pockets to keep your valuables and small items safe and organized. Whether you're heading out for a day trip or a longer adventure, the Malo'o Waterproof Duffle Bag is an excellent choice for keeping your gear dry and protected.


- 40L, 60L, or 100L Capacity (10.5 Gal, 16 Gal, 26.5 Gal)
- DryCore™ Technology shell and IPX6 Waterproof Rating
- (2) 9" x 7.5" interior netted pockets
- 12" x 8 " Large Front Pocket
- 40L (10.5 Gal) 20" x 12.5" x 12.5" 2.2 lbs.
- 60L ( 16 Gal) 27.5" x 13" x 13" 2.5 lbs.
- 100L (26.5 Gal) 40" x 14" x 13" 4.9 lbs.
- 100L HD Model: Dark Green/Grey/Red/Orange has an additional.6mm 1000D PVC coating (black bottom) for a thicker, more durable bag bottom.
- Double closure buckles at handles to keep things watertight
- Adjustable, removable shoulder straps and hand straps are ergonomically designed and made to last
- MOLLE loops on the front and back to anchor the dry bag to boats or kayaks, or for attaching flasks, flashlights, and more
- Roll-Top bags float and are not submersible

- After putting items inside, align the top sides together
- Roll the top into itself three times
- Attach rolled top to side buckles, then attach top-over buckles at handles

Warning- Do not place the Dry Bag on rough or sharp surfaces as it could puncture the bag.
The 100L Duffle bag you didn't know you needed
I order WetHoodie Gray 2XL. Neoprene arms and pouch are awesome. Stay out of water and keep warm in cold weather. I live in 4 Seasons in the Northern eastern. It's worth it. I will buy again.
Just what I was looking for
This thing is huge and waterproof, what more could you ask for in a storage solution? I was able to fit my queen sized air mattress, two moving blankets (flooring), two queen sized pillows, a full set of sheets and a large blanket in this thing with room to spare for pumps and misc items. I love the fact that I can grab one bag and have all my bedding for camping on an extended trip. The waterproofing gives me piece of mind strapping this to the roof rack of the truck so I can keep my precious bed space for other items. Even it you aren't storing a ton of bedding this could hold a plethora of items and keep them dry at that. I love this thing
Nice bags well built and
While planning a motorcycle trip which will include camping I decided that in order to haul my camping gear and to keep it dry I was going to need a dry bag. I looked on the motorcycle gear sites and everything was pretty steep in price. As my search continued I came across the Malo'o Dry Pack roll top duffel and it checked all boxes as to what I was looking for. When it arrived and I seen the small size of the box it came in I was sure it was not going to be big enough but when I opened it up it was the perfect size. While I haven't taken my trip yet I'm confident it will do just fine. It is well made and it has several places to tie I'd down and the best part is it didn't break the bank.
DryPack truely Dry
Nice bags well built and work well
Duffle Bag
Works as they should, very tight, very dry. Going back for one more.