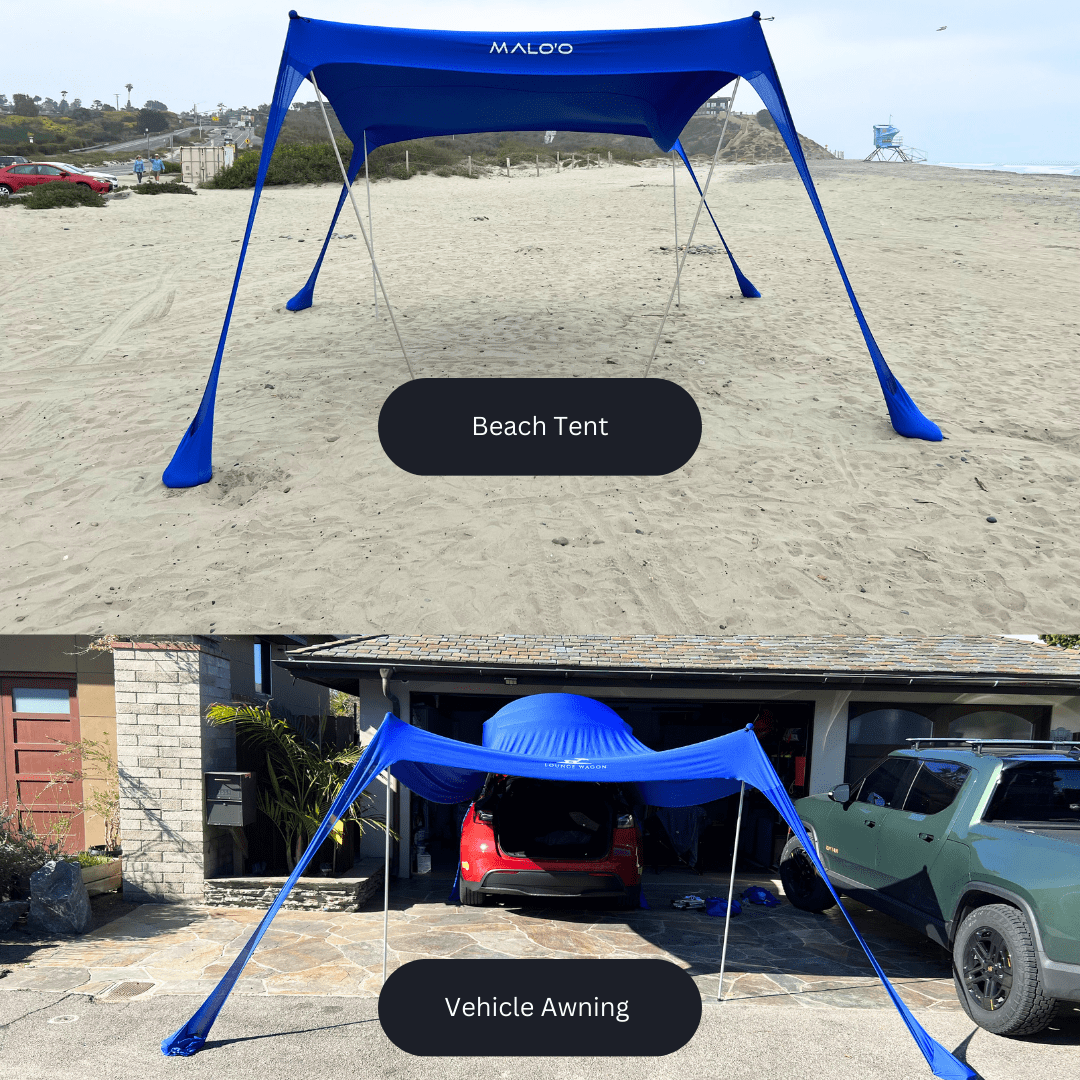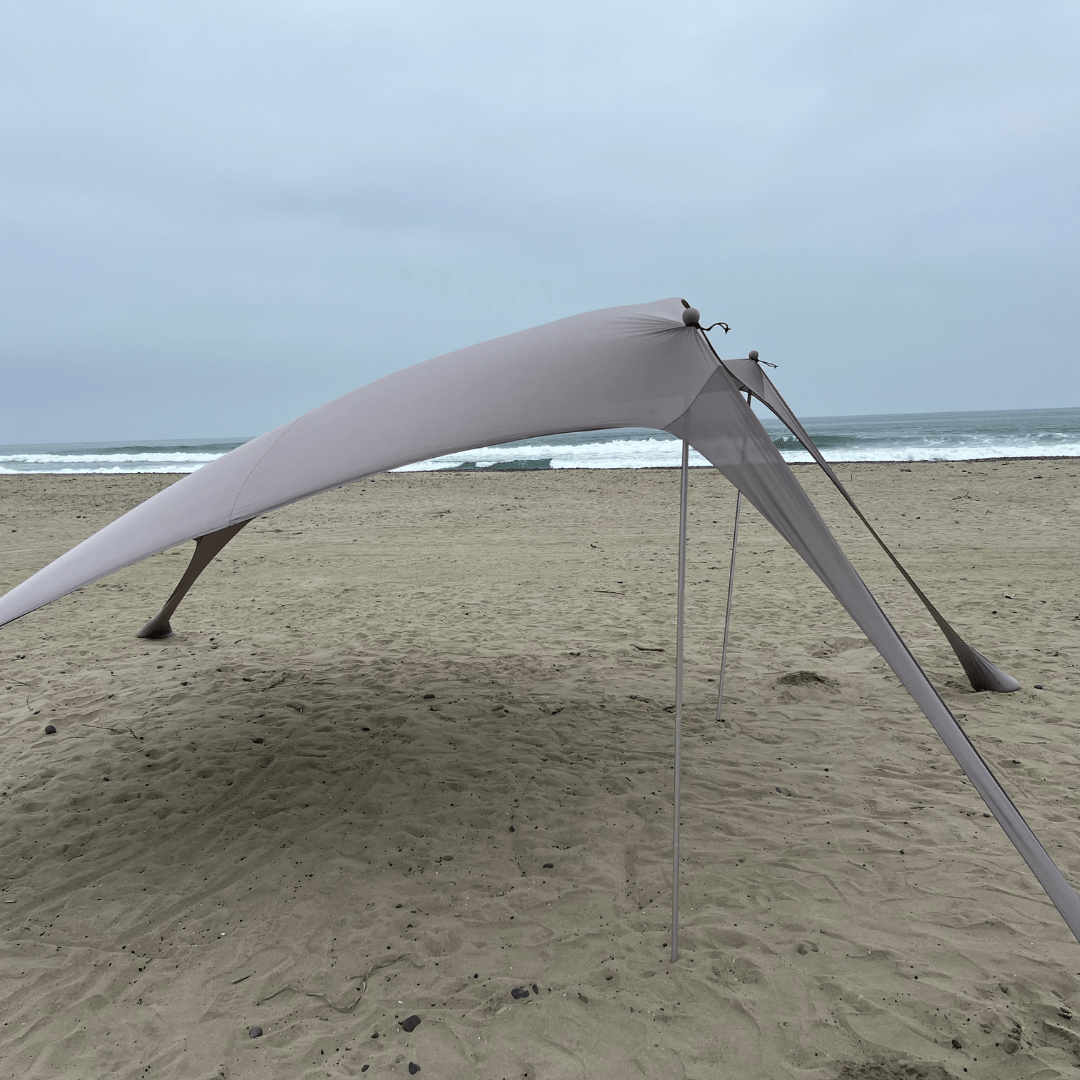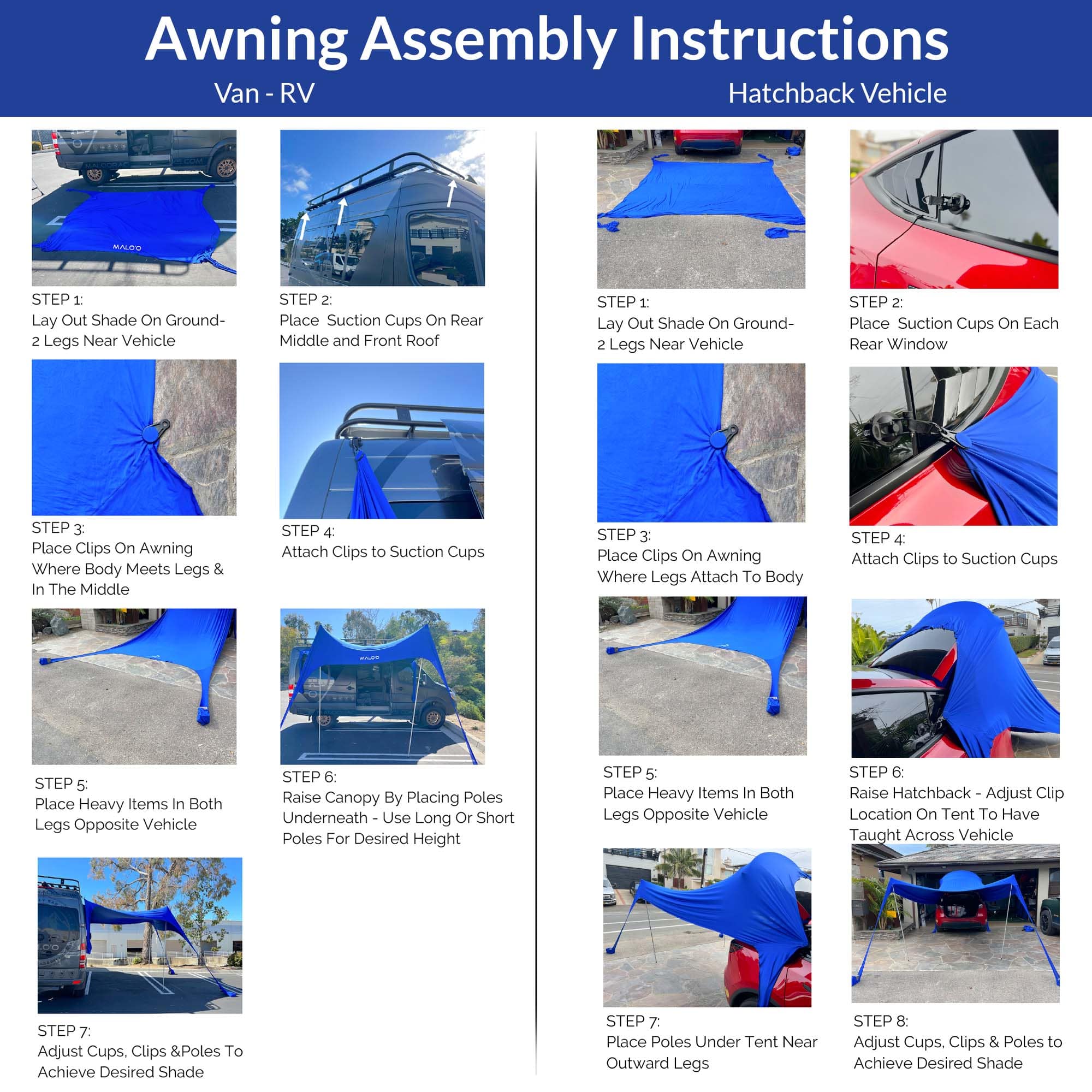 Malo'o Canopy Tent & Vehicle Awning
DESCRIPTION
Introducing the perfect accessory for your next beach adventure - our 10'x10' Beach Sunshade Tent! Designed with both comfort and protection in mind, this sunshade tent provides a shaded retreat for you and your loved ones to enjoy on even the sunniest of beach days.

With a spacious 10'x10' footprint, this sunshade tent offers plenty of room for you and your companions to relax and enjoy the beach. The lightweight yet sturdy aluminum frame provides reliable support, while the durable polyester fabric offers UPF 50+ protection from harmful UV rays.
But why only use it at the beach? The Malo'o Tent is also capable of being an awning for your vehicle. It will work on vans, SUVs, and hatchbacks. We've included clips and suction cups so you can use your tent & awning at campgrounds, parks, and events. 
Whether you're looking for a comfortable spot to read a book, a shady respite from the sun, or a safe place to keep your belongings, our 10'x10' Beach Tent & Vehicle Awning has got you covered. Order now and enjoy your next adventure with peace of mind and comfort!
- 10'x10' UPF 50+ Canopy
- 8.8 lbs
- (2) 9' poles
- (2) 6'6"' poles
- Elastic ties for the top of poles
- Shovel for sand
- (2) Guy Lines for additional pole stability
- (4) Stakes for the ground
- (3) Canopy clips for use as an awning
- (3) suction cups for use as an awning
- Storage bag
- Instructions for use as Beach Tent or Vehicle Awning
- Color: Blue = Pantone 285U, Grey= Pantone Warm Grey 6C
Setting up this beach sunshade tent is a breeze - simply unfold the canopy, place sand in the legs, and use 2 or 4 poles to set it up. You can also add additional guidewires or ground stakes. When it's time to pack up, the tent folds down easily and fits neatly into the included carrying bag for hassle-free storage and transport.

Installing this vehicle awning is also easy. First, choose where you want to place the suction cups, then attach the clips to the canopy and connect them to your vehicle. Next, place a weight on the two legs furthest from the vehicle and use two poles to raise the awning to your desired height. When you're ready to pack up, simply follow the same steps in reverse and store the awning in its bag.
WetHoodie™
The Malo'o WetHoodie™ is a newly designed and patented fishing apparel item that's perfect for keeping fishermen warm and dry. This innovative fishing hoodie combines the features of a wetsuit with a hoodie to protect you while fishing, hunting, or trapping. The body of the hoodie is designed to keep you warm, while the sleeves are made of 2mm neoprene, providing water insulation just like a wetsuit.

The sleeves are tapered at the wrist to prevent water from getting in and are loose above the elbow for comfortable movement. There's a pouch on the front for easy access to your tools and magnetic snaps to use with gloves, making it the perfect addition to your cold-weather fishing gear.

Whether you're fishing in Montana, trapping in Alaska, or canoeing in New England, the Malo'o WetHoodie™ will keep you warm and protected from the elements.
SurfParka
Introducing the Malo'o SurfParka - a waterproof and windproof parka jacket that's perfect for changing clothes at the beach, lake, or mountains. No more struggling with a towel around your waist when you can wear the SurfParka instead.

The Malo'o SurfParka is designed to keep you warm and comfortable while you change in and out of your wetsuit, hoodie, or booties. There are two sizes and the design allows you to easily change without worrying about exposing yourself. You can even wear it while driving home after a chilly day in the water!

This eco-friendly parka is lined with recycled polyester sherpa fleece made from 100% recycled post-consumer materials, including the sleeves, to keep you cozy. The exterior is made of waterproof and windproof recycled polyester, with two large front pockets for storage. The recycled materials are made from used water bottles and help us keep them from our oceans. The 2-way all-weather zipper makes it easy to zip up tight and keep the elements out.(image by Kylie Shields)