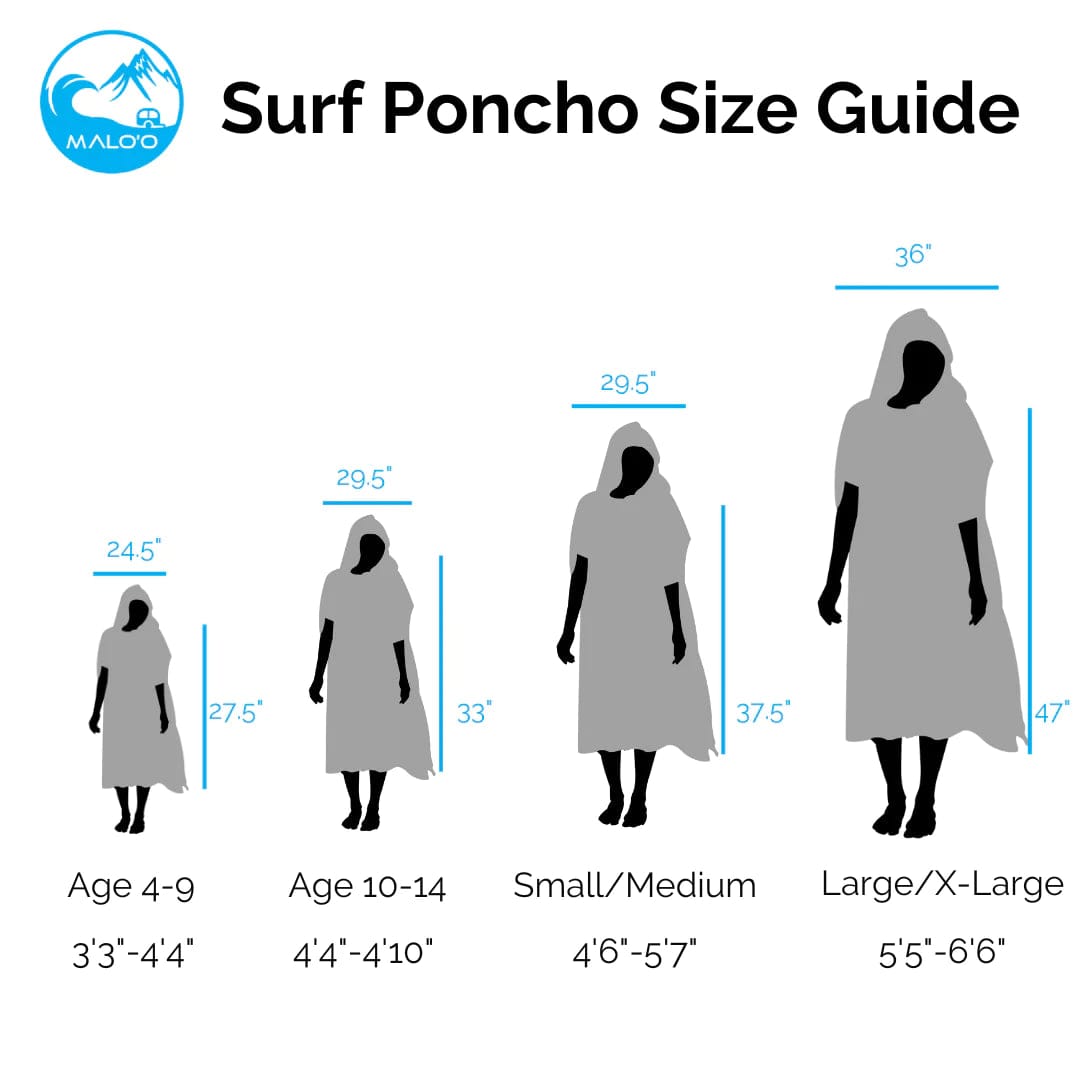 Malo'o Avo Changing Poncho
DESCRIPTION
Aloha! Are you tired of freezing while trying to change out of your wetsuit or after exiting the pool? Don't be an average surfer who shimmies out of their wetsuit while wrapped in a towel, or the one freezing in way too small a towel. Smart folks know that getting their core temperature back up is key to more water sessions. That's why the Malo'o Changing Poncho is the perfect solution!

The Malo'o Avo Changing Poncho is 100% microfiber poncho is incredibly soft and large, with four different sizes available to fit everyone. It has a large hood, front pocket, and a 360 GSM cotton body, making it perfect for going over your wetsuit and providing you with plenty of room to change. You don't have to worry about kooks taking a peek either, as it's long enough to cover you even if you're 6'6".

No more checking if you're covered while bending over or changing - the Malo'o Poncho will cover you from head to toe, getting you warm and dry in no time. Whether you're surfing in California, fishing in Wyoming, or boating in New England, the Malo'o Changing Poncho will keep you warm and protected when you need to change. The Poncho is named after the "Avo" surf break in San Diego, where it was designed. 

Don't be caught without one! The Malo'o Changing Poncho is a must-have for any sports enthusiasts who love the water and want to take care of themselves and enjoy more sessions. Mahalo for choosing Malo'o.


- Sizes: 24.5"x27.5", 29.5"x33", 29.5"x37.5", 36"x47"
- 360 GSM Cotton
- Exterior Hanging Loop
- Multiple colors
- Logo embroidery on pocket
- Long Sleeves
- MACHINE WASHABLE
Fishing Gear
The Malo'o WetHoodie™ prevents frozen arms and soaked sleeves! Its just one of the many tools we have to enhance your fishing experience.