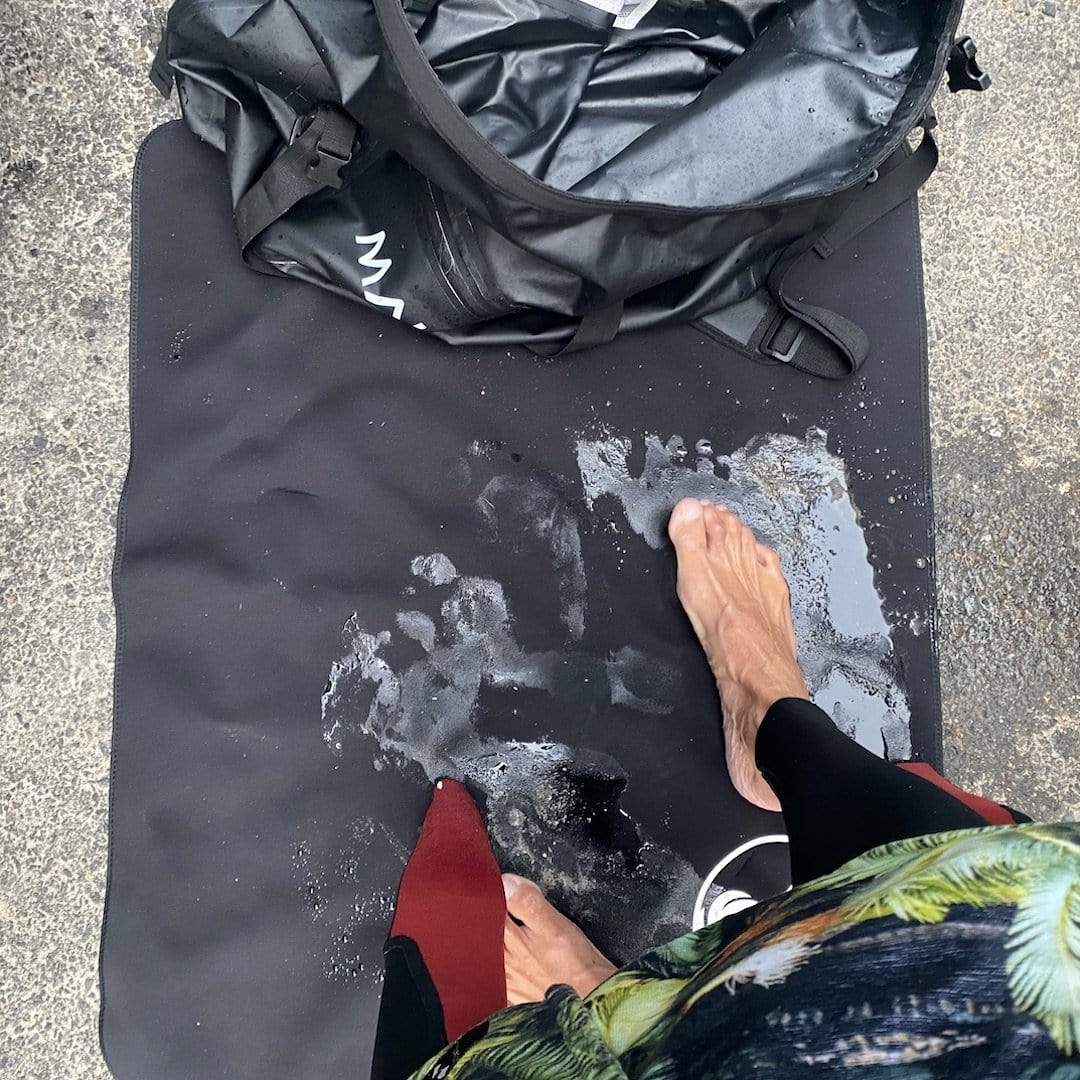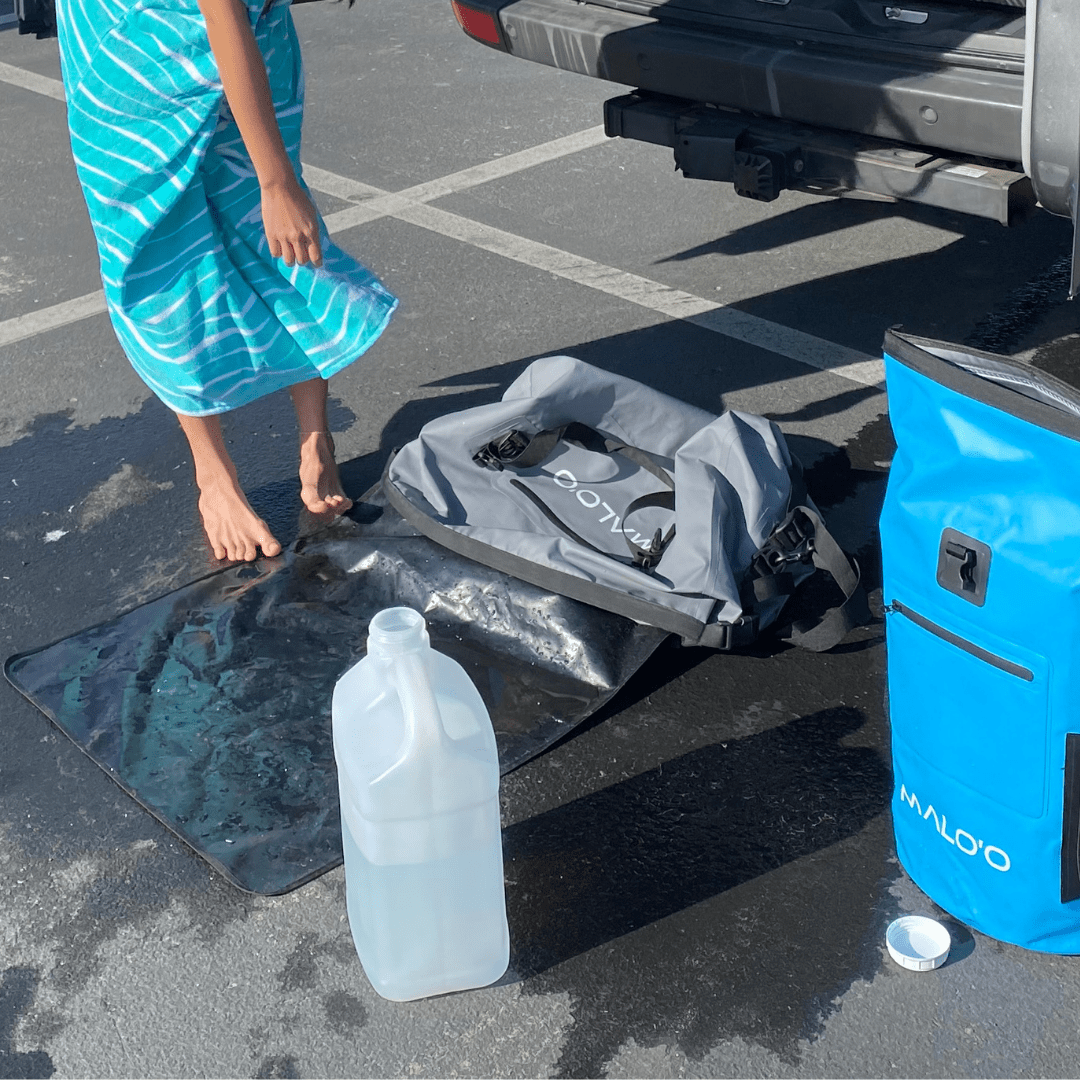 DESCRIPTION

THE ULTIMATE CHANGING BAG - 2-in-1 Locking the wet & stink away!

The Malo'o Wetsuit Changing Bag is an innovative solution for changing out of your wetsuit or other gear. It features a DryCore™ Technology mat that measures 30" x 28" to stand on while changing. Once you're done changing, simply roll the mat and gear into the 60-liter drybag and roll to close. The bag is completely waterproof, ensuring that water and smells stay inside.

Whether you're participating in water sports, camping, or engaging in other outdoor activities, you need a reliable way to contain your gear after changing. The Malo'o Changing Bag is lightweight, durable, and waterproof. Unlike other changing mats and bags with cinch cords, this bag won't leak and will protect you from dampness and musty smells. Grass mats are difficult to store and plastic bins are awkward to undress in.

The Malo'o Changing Bag is the ultimate solution. Just lay out the mat to get changed, pile your gear into the wide-mouth dry bag, roll the top, and secure it. This ensures that your vehicle stays dry and odor-free. When not using it for changing, you can use the Roll-Top duffle for other adventures. The bag is constructed from commercial-grade 500D PVC with thermo-welded seams, providing IPX6 waterproof protection in even the most extreme conditions.
- 60L Big-Mouth Duffle Bag with DryCore™ Shell & IPX6 Waterproof Rating
- (2) 9" x 7.5" interior netted pockets
- 12" x 8 " Large Front Pocket
- 60L 27.5" x 13" x 13" 3.6lbs.
- 36" x 30" removable polypropylene mat
- The bag has double closure buckles at handles to keep things watertight
- Adjustable, removable shoulder straps and hand straps are ergonomically designed and made to last
- Open the duffle up and pull the mat out and lay it on the ground. The bag is still connected on one end
- Stand on the mat to change
- When done, roll your wetsuit or other gear on the mat and into the bag
- Make sure all your gear is inside and you can carry the bag by the straps or handles
- If you'd like to make sure the water and smell stay inside, then after everything is inside, roll the top into itself three times to secure the top. Then attach side buckles and over-the-top buckles and it will be watertight.
Great for wetsuits and wet snowboarding gear
It's amazing that the backpack is so light but it also has plenty of space to carry stuff!
The waterproof feature just made it even better that I bring it to the beach every time I go.
Definitely recommend it!
Great Changing bag
This is the best changing mat/bag combo out there. The material bombproof, and the bag is roomy and holds plenty. I use it for wetsuits after surfing and for shedding wet powder pants and shells after a day of snowboarding. The mat is big and durable, and all the wet gear is sealed in to keep the car dry and stink-free. I spent $30 on a competitor's drawstring style change mat and it was leaking through after just a few uses. The Malo'o is highly recommended, it's worth the money.
Use it Everyday
Perfect for changing and totting the wet stuff home
Great Products
I bought mine from Malo'o at the Encinitas Street Fair. I use to use the plastic bin in the back of the car and a grass mat to stand on, just like everyone else. When I saw this, I had to try it. It's AWESOME! everything in one. The mat works fine to stand one, roll up is easy but what I like best is the bag. It keeps everything inside, my car is dry and I have even used it on a kayak trip. Can't recommend it enough!