---
The Ultimate Portable Drying Rack
The Malo'o DryRack is a durable, lightweight portable drying rack ideal for drying your wetsuit, towels, or outdoor gear while you are at the beach, on the road, or in the office.
Don't leave your wet stuff in the car and end up with smelly, mildewy gear. The Malo'o DryRack has two drying bars and can hold up to 20 lbs so you can use it as a wetsuit hanger, to air dry towels and swimwear, and to hold or dry your outdoor adventure gear wherever you go. With padding on the handle and hinges to prevent scratching, you can hang it almost anywhere. Or open it all the way and use it at home instead of a clothesline for more drying space.
Go from the beach to the office without having to worry about a smelly car or damaging your gear. Let it hang dry on the Malo'o DryRack.
---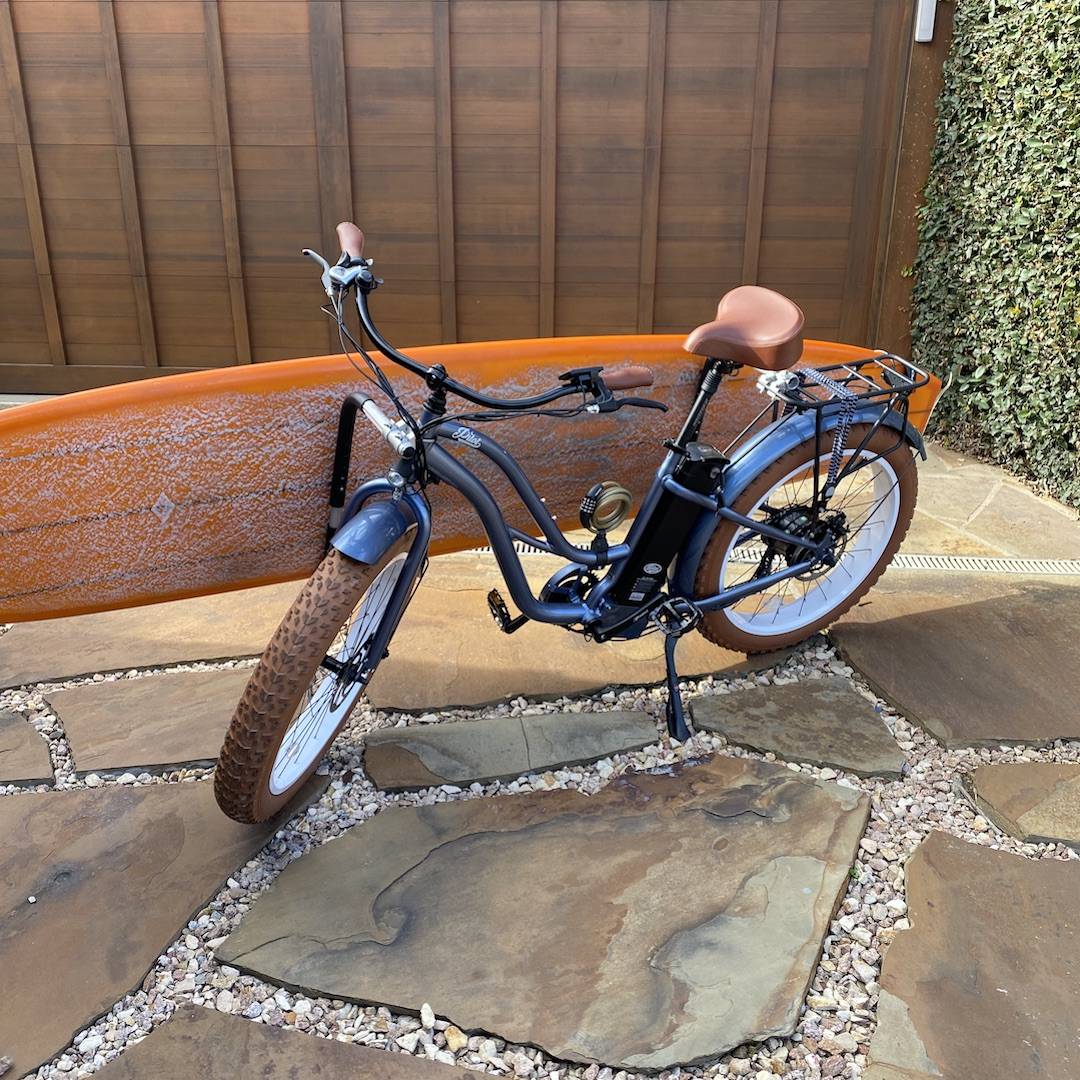 The Versatile Surfboard Bike Racks
The Malo'o Removable Surfboard bike rack is perfect for getting your surfboard to your favorite break and back daily. Constructed of rustproof aluminum, the longboard model mounts to the seat post or rack and the head tube and has 2 holding supports for the surfboard. Additionally, it has integrated hooks for utilizing bungees. The side-mounted bicycle accessories offer a simple and stable way to bike to the beach with your board. The surfboard bike mount was designed to be lightweight and durable. Installation will only take a few minutes and all hardware and tools have been included. The bike surf rack will fit most mountain bikes, beach cruisers, road bikes, and more.
The short board version mounts to the seat post and has 2 holding supports for the surfboard. Additionally, it has integrated bungees to strap your board in.
Both versions can be used on bikes and ebikes.
The Malo'o Pro-Quality Surfboard SUP Wall Rack is made from heavy-duty steel with thick padding to protect your surfboards, paddleboards, wakeboards, skis, snowboards, and more. The extra long board bars make storing SUPs and surfboards in the same rack easy. We included a 10" + space between the bars for tall fins on longboards. Don't need all three bars? The bars have a quick disconnect so you only use what you need.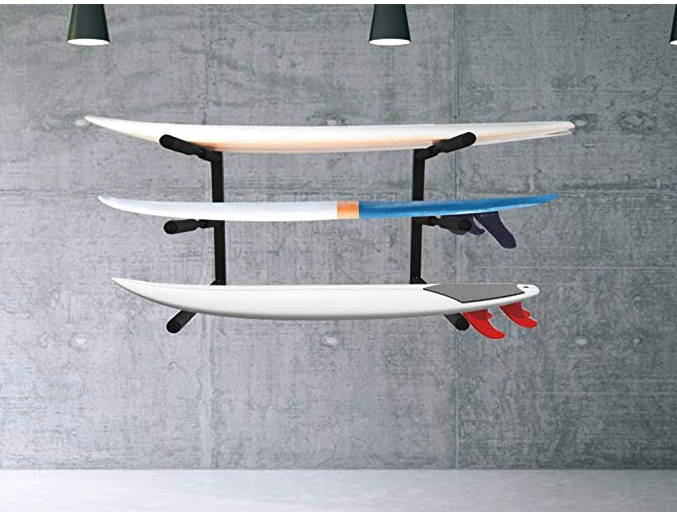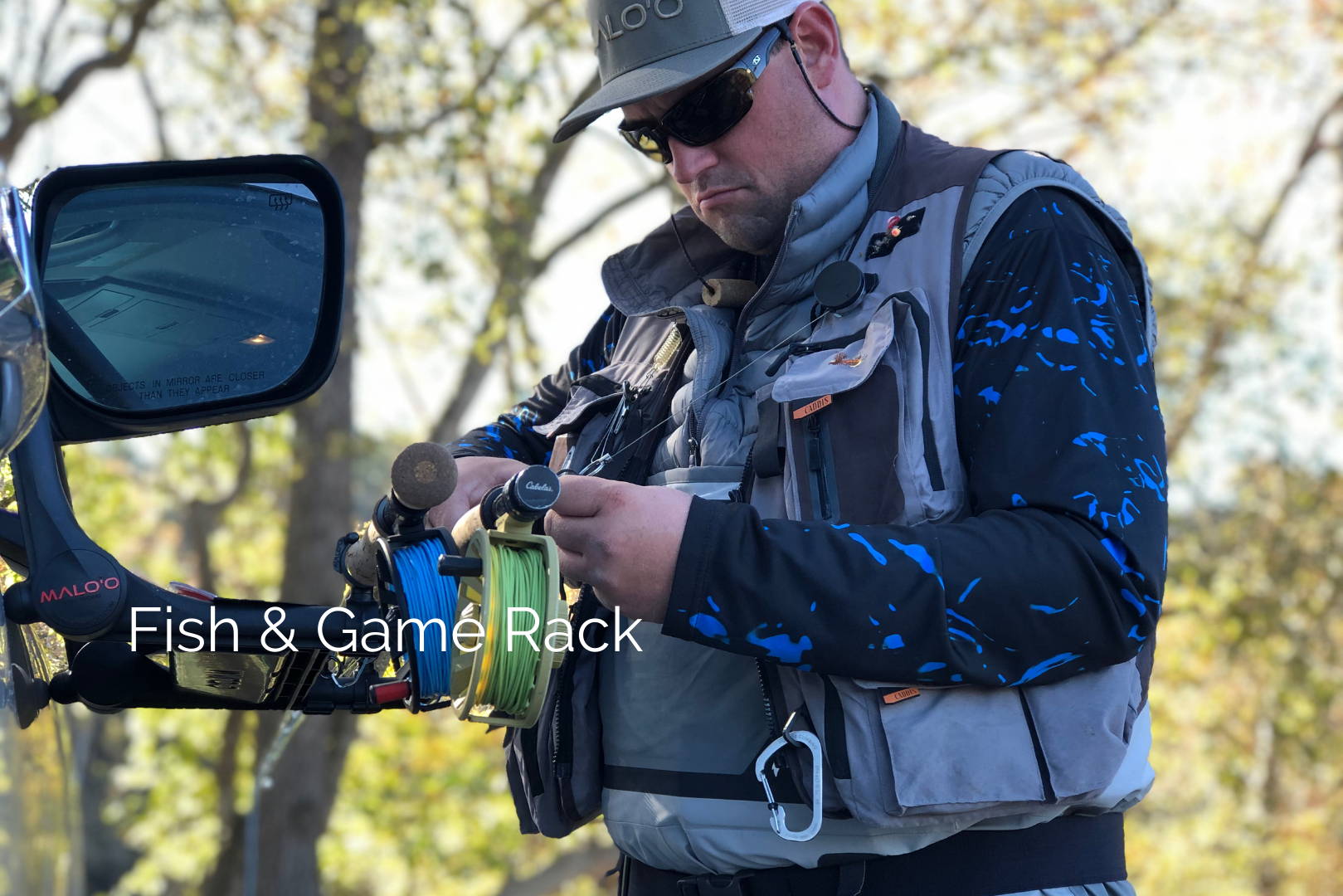 The Malo'o Fishing Rod Holder & Gun Rack is the perfect hunting and fishing accessory. Take it to the stream, lake, or the field to securely hold your gear while you're setting up. Place the rack over your vehicle's side-view mirror and snap on our new patented rack clips to use it as a portable fishing pole holder or hunting gun rack.
The Fishing Rod Holder & Gun Rack can hold fly fishing gear, fishing accessories, hunting guns, and more upright within the two different sized clips and the included tray. Turn the clips up to hold fishing rods while you tie lines, flies, and hooks. It's a "must-have" fishing accessory that's a perfect addition to anyone's fly fishing gear, as well as a convenient hunting accessory that's like an extra set of hands!
The Malo'o DryRack RV / Van / Boat Edition is designed for outdoor enthusiasts on the go with their 5th wheel, trailer, motorhome, van, or boat so you can hold and dry your gear, anywhere!
This Malo'o DryRack includes a heavy-duty suction cup that can be used inside or outdoors and hold up to 20 lbs. No more hanging your towels and gear on chairs, bushes, or awnings. Stick the suction cup to any smooth surface where you can maintain suction, and slide the top of the Malo'o DryRack handle into the open hook. Ensure the rubber padding behind the rack hinges is also making contact, and you're good to go!
The versatile DryRack has two drying bars and can be opened flat, so you can hang it from a ceiling to dry even more items.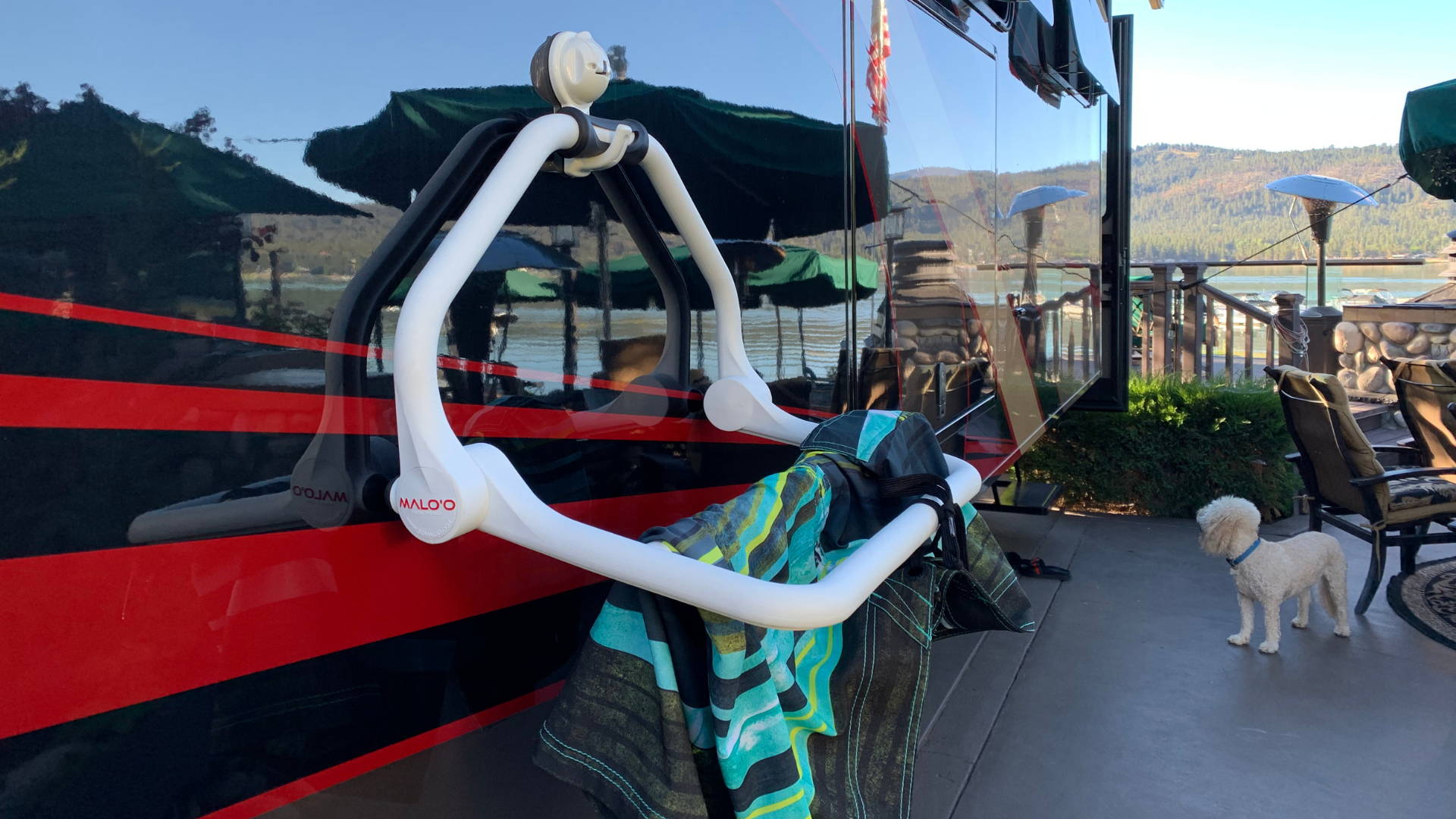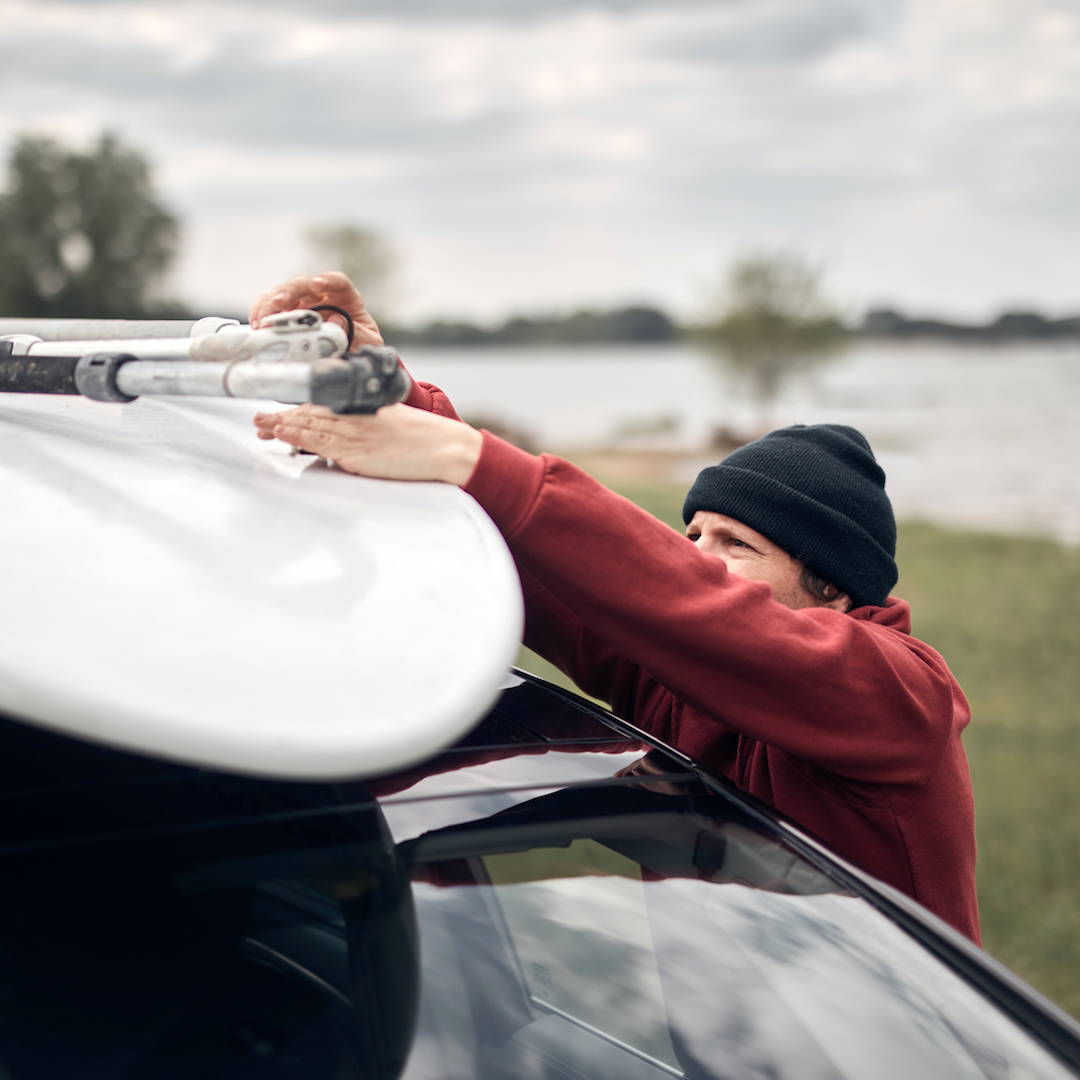 Surfboard / SUP Roof Rack
The Malo'o Soft Root Racks are a great way to transport your surfboard, SUP, paddleboard, kayak, or canoe without investing in expensive roof racks with can cost $500 or more.
The foldable rack pads are 32" long, 4.5" wide, and 3" tall and can be used on cars without or with existing racks. The non-slip pads and heavy-duty straps will keep the pads securely on your vehicle. The cargo straps, nose/tail ropes, and other accessories will help you secure your boards, kayaks, canoe, skis, or snowboards to the vehicle. There are included directions on how to install and remove. Boards, Skis, Kayaks, and other gear are expensive, so making sure it is secure before leaving is critical. Please be responsible for attaching your soft roof rack and cargo. Damage, injury, or death can result in improperly installed pads and cargo.