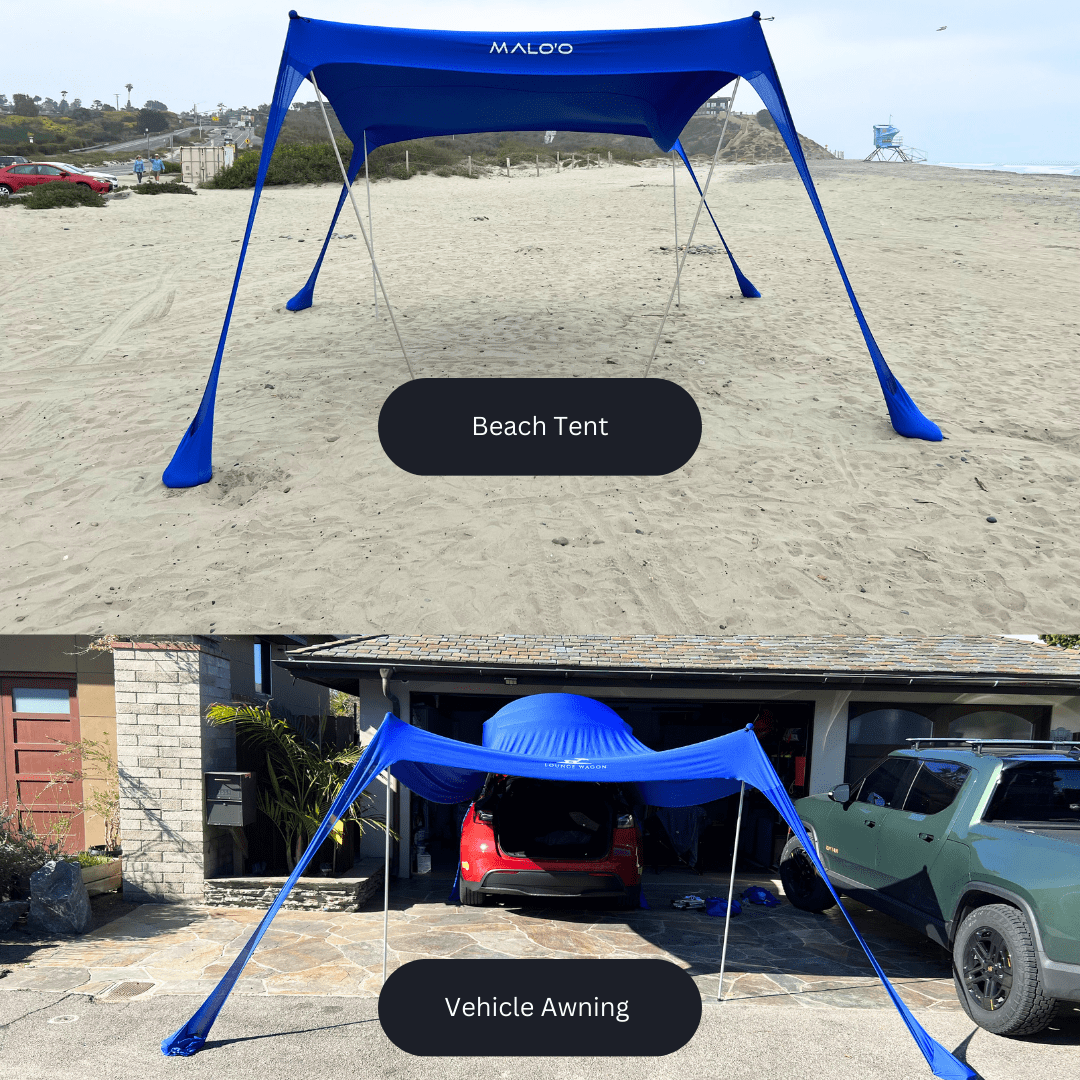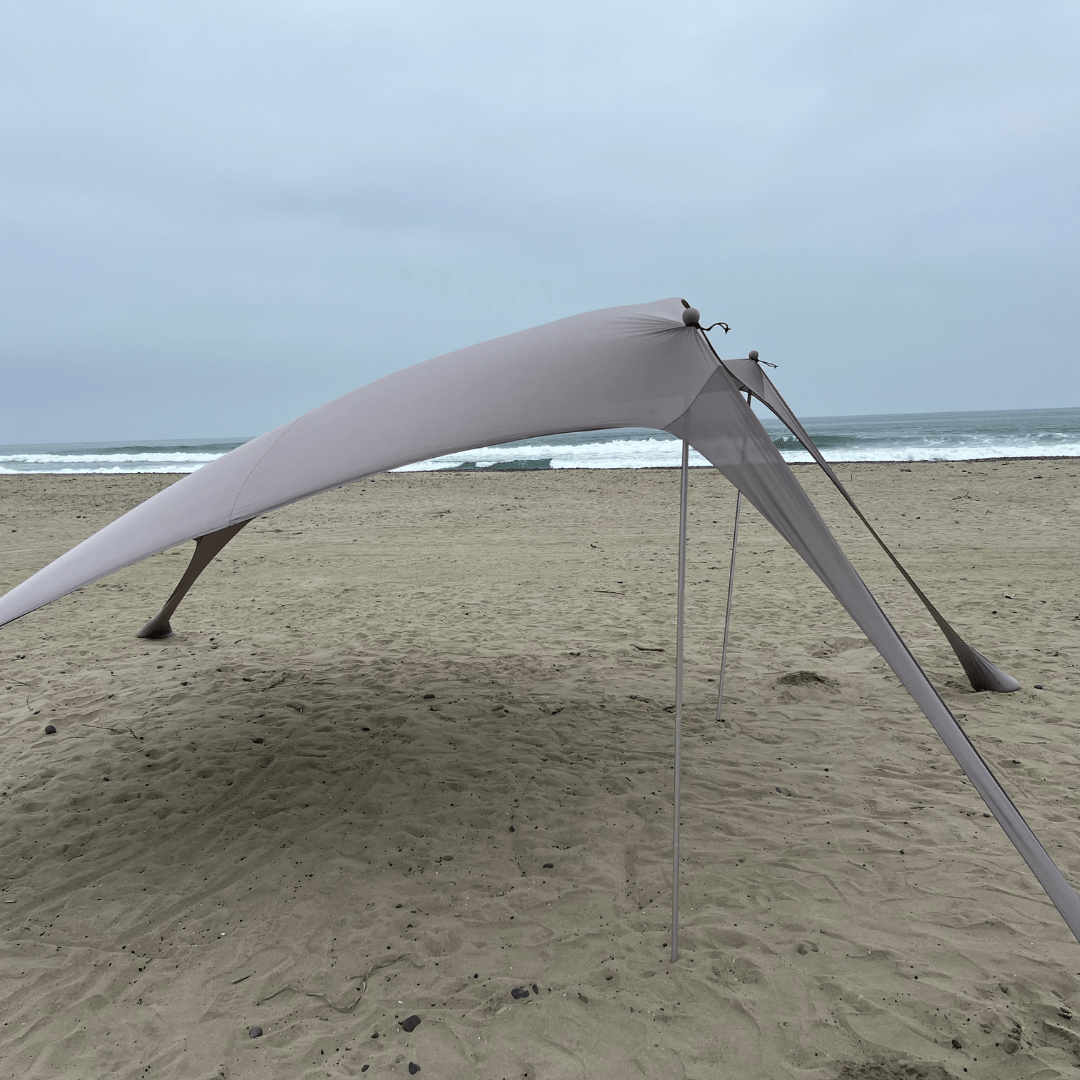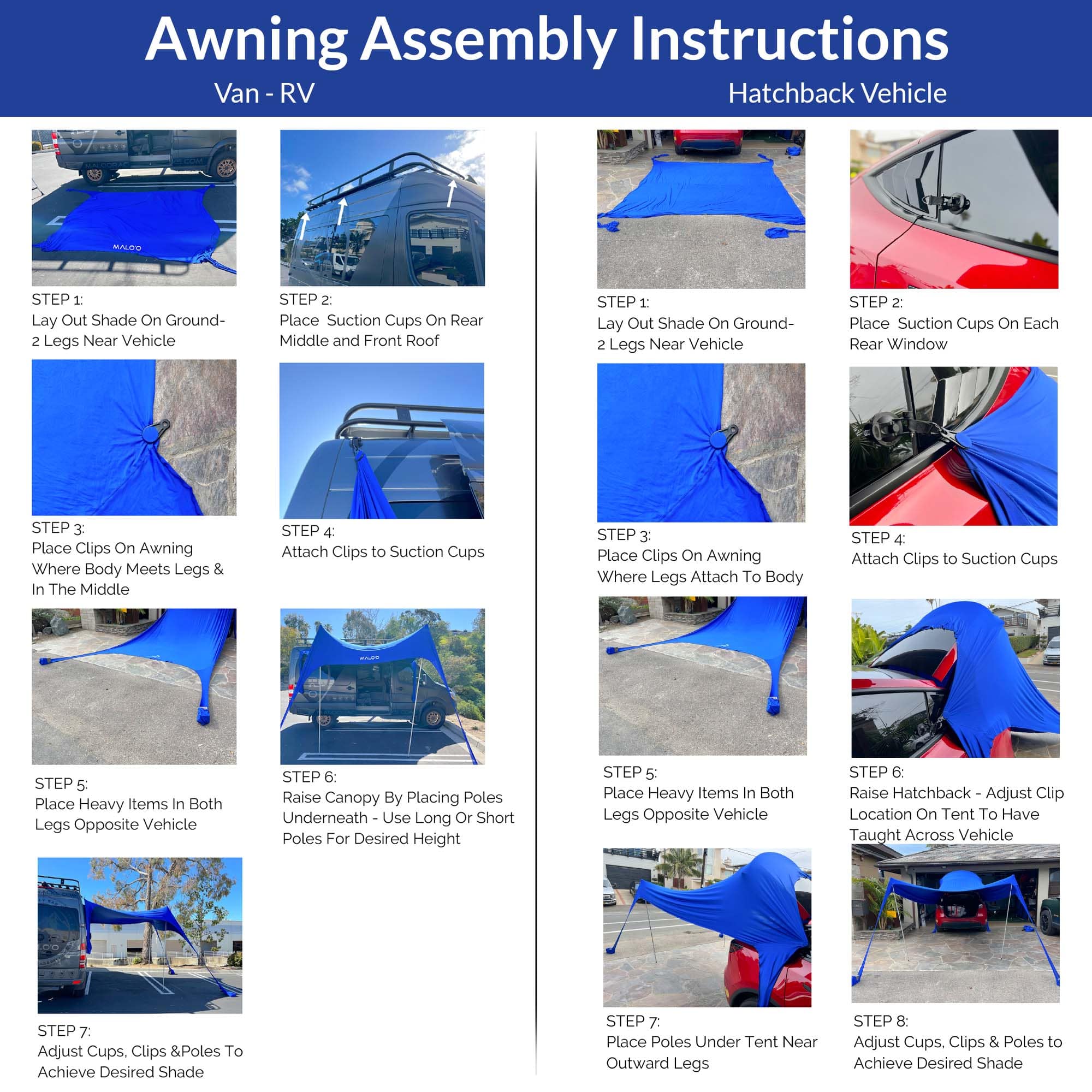 Canopy Tent & Vehicle Awning
DESCRIPTION
Introducing the perfect accessory for your next beach adventure - our 10'x10' Beach Sunshade Tent! Designed with both comfort and protection in mind, this sunshade tent provides a shaded retreat for you and your loved ones to enjoy on even the sunniest of beach days.

With a spacious 10'x10' footprint, this sunshade tent offers plenty of room for you and your companions to relax and enjoy the beach. The lightweight yet sturdy aluminum frame provides reliable support, while the durable polyester fabric offers UPF 50+ protection from harmful UV rays.
But why only use it at the beach? The Malo'o Tent is also capable of being an awning for your vehicle. It will work on vans, SUVs, and hatchbacks. We've included clips and suction cups so you can use your tent & awning at campgrounds, parks, and events. 
Whether you're looking for a comfortable spot to read a book, a shady respite from the sun, or a safe place to keep your belongings, our 10'x10' Beach Tent & Vehicle Awning has got you covered. Order now and enjoy your next adventure with peace of mind and comfort!
- 10'x10' UPF 50+ Canopy
- 8.8 lbs
- (2) 9' poles
- (2) 6'6"' poles
- Elastic ties for the top of poles
- Shovel for sand
- (2) Guy Lines for additional pole stability
- (4) Stakes for the ground
- (3) Canopy clips for use as an awning
- (3) suction cups for use as an awning
- Storage bag
- Instructions for use as Beach Tent or Vehicle Awning
- Color: Blue = Pantone 285U, Grey= Pantone Warm Grey 6C
Setting up this beach sunshade tent is a breeze - simply unfold the canopy, place sand in the legs, and use 2 or 4 poles to set it up. You can also add additional guidewires or ground stakes. When it's time to pack up, the tent folds down easily and fits neatly into the included carrying bag for hassle-free storage and transport.

Installing this vehicle awning is also easy. First, choose where you want to place the suction cups, then attach the clips to the canopy and connect them to your vehicle. Next, place a weight on the two legs furthest from the vehicle and use two poles to raise the awning to your desired height. When you're ready to pack up, simply follow the same steps in reverse and store the awning in its bag.
So Cool!
I have purchased several products from Malo'o & never have been disappointed.
Most recent is the wetsuit changing bag. Love it! It holds everything I need for my surf sessions & more. Love the convenience of the changing pad, slip the wetsuit off, pile up all the rest of the wet stuff like bathing suit, fins, changing towel & Malo'o Rack. Roll it all into the bag, throw it in the vehicle & go. Nothing in the vehicle will get wet. Pretty simple & pretty easy. Thanks Malo'o :call_me_hand::skin-tone-3::pineapple:
Works just like it says!
I was looking at a fixed canopy for my transit and saw this on instagram. It works great, It took me a bit to figure out the best spots for the suction cups and then I use the long poles so it sits higher. I just leave the clips on it when we used it at the beach. Really nice to find this and saved me hundreds$.