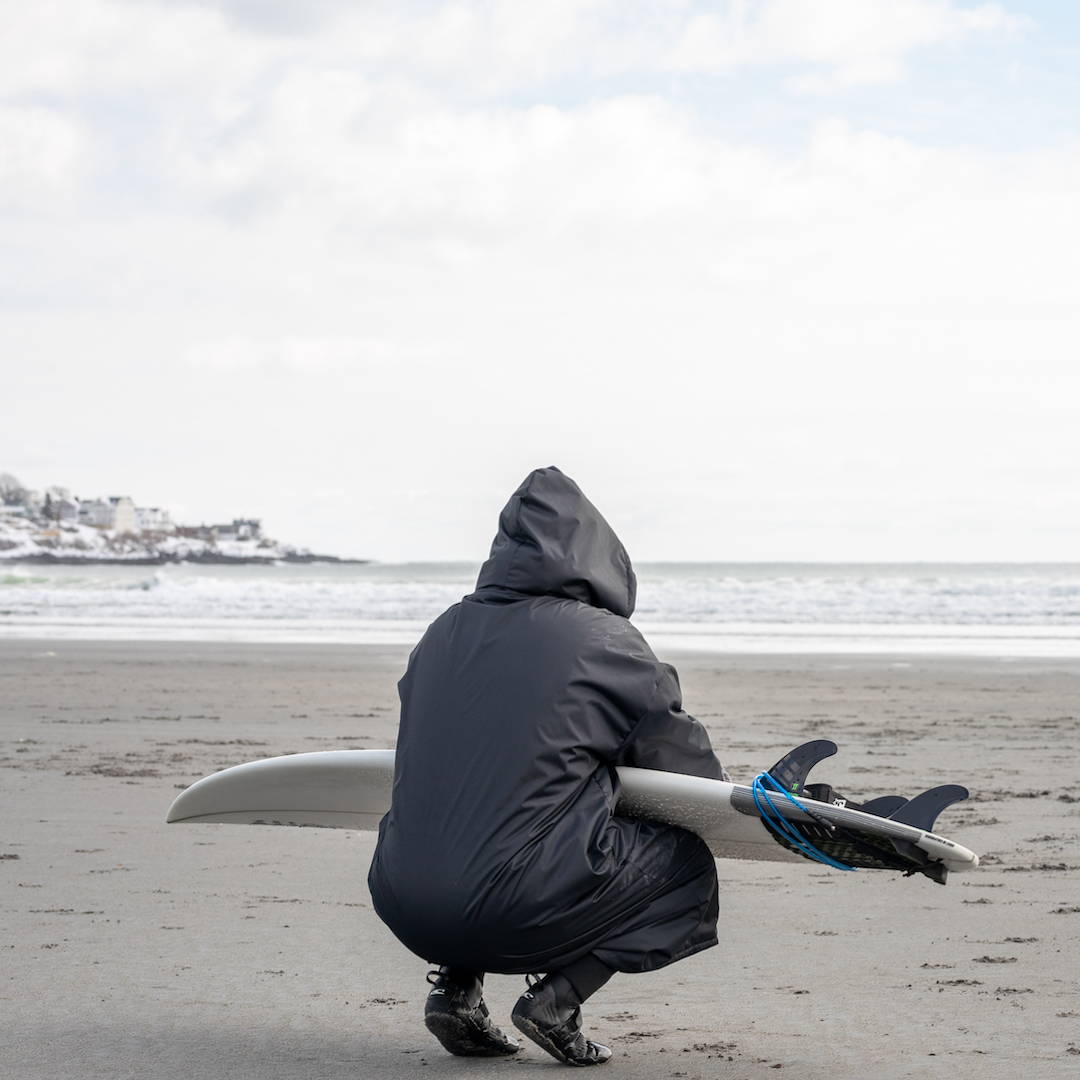 Weatherproof - Fast-Drying and Breathable
The Malo'o Adult SurfParka XL is a waterproof and windproof parka jacket perfect for changing at the beach, lake, mountains, or whenever a towel around the waist just doesn't cut it.
When the wetsuit, hoodies, and booties come out, freezing while changing just isn't a good idea. The Malo'o SurfParka is extra-large and long so it can fit over a wetsuit and you'll still have room to change. No need to check to see if you're covered while bending over or pulling your wetsuit off. The Malo'o WaterParka will cover you even if you are 6'6"! If the arms are a little long for you? Just roll them up!
Get Your Core Temperature Back Up Quickly
We've even been known to drive home, after changing, with only the parka on. After getting out of the freezing water, it's just that nice. The SurfParka is lined with synthetic lambswool fleece, even in the sleeves, to keep you oh-so warm. The exterior is waterproof and windproof polyester with two large front pockets. A 2-way all-weather zipper makes it easy to zip it up tight to keep the elements out and zip up from the bottom to make changing easier.
Whether you're fishing in Montana, surfing in California, or boating in New England, the Malo'o SurfParka will keep you warm and protected from the elements.
Great for tempretures below 60° and available in 4 colors.
Warm Up and Change in Style
Pull your wetsuit 1/2 way down then wrap a towel around yourself and then try to shimmy out of your suit while your chest and head are freezing? That's is what average surfers do. The smart ones realize getting their core temperature back up as soon as possible is important and taking care of yourself allows for more sessions. The Malo'o Surf Poncho is the solution. 100% 400 GSM thick cotton will dry you off, get you warm and allow you to get out of that wetsuit or wet clothes. It's long enough that you don't have to worry about kooks taking a peak. How can you go without one?

The Malo'o Surf Poncho is incredibly soft and large. At 36" x 47" with a 14" hood and 400 GSM cotton body, it's designed to go over a wetsuit and provide you room to change. No need to check if you're covered while bending over or pulling your wetsuit off. The Malo'o Surf Poncho will cover you even if you are 6'6"!
Great for tempretures above 55° and available in 4 patters/colors.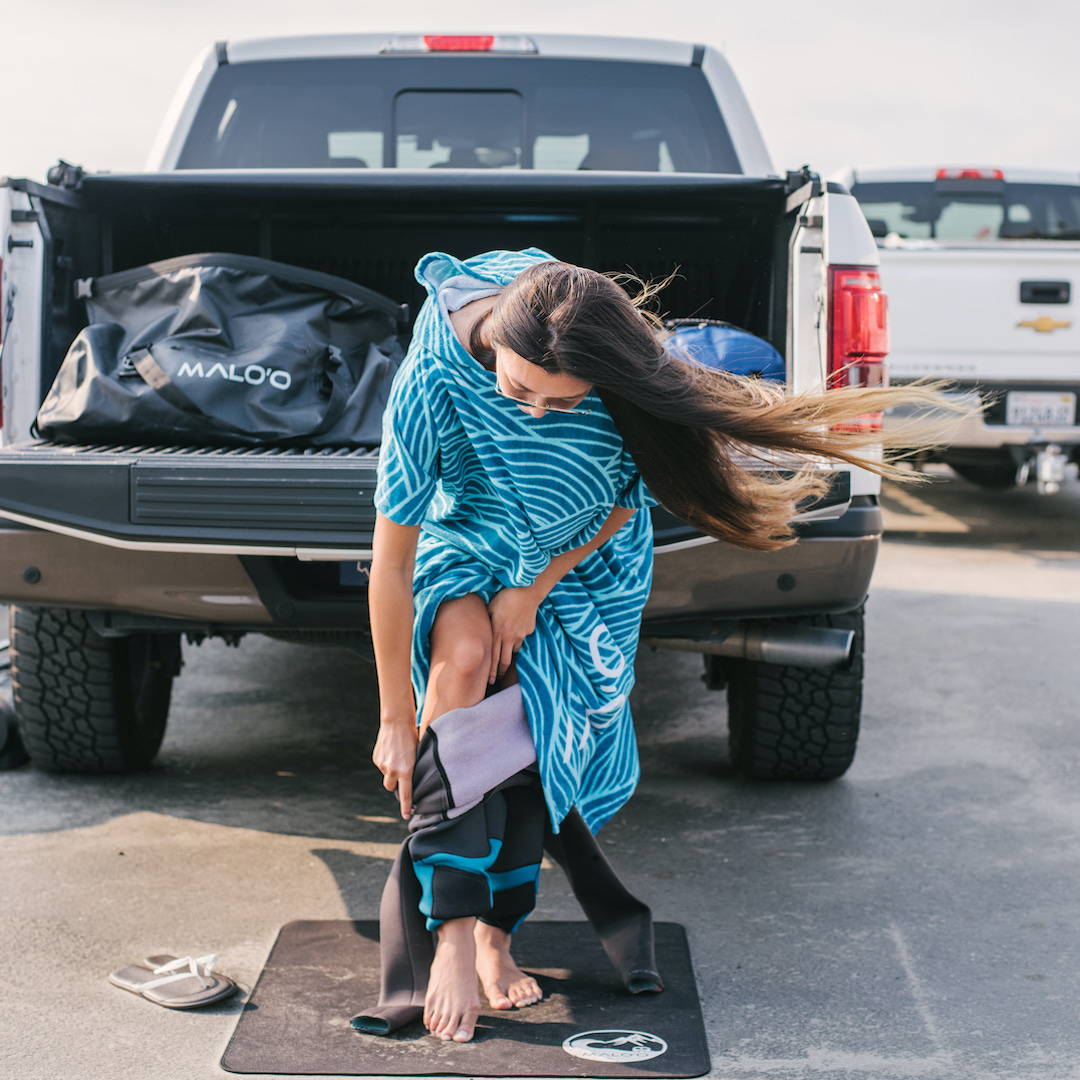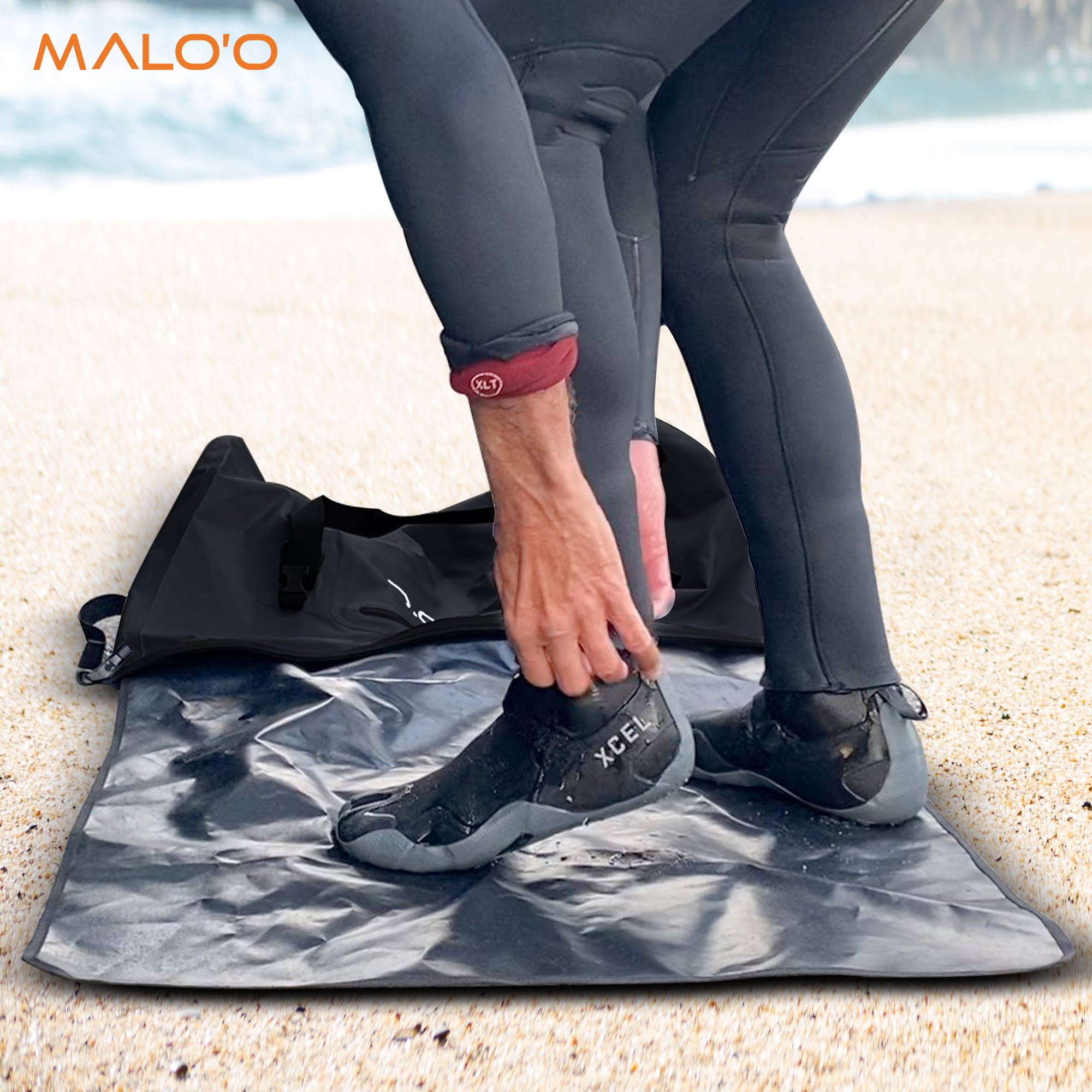 The Ultimate Changing Bag - 2-in-1 that locks the wet & stink away!
The Malo'o Wetsuit Changing Bag includes a 30" x 28" mat to stand on when changing your wetsuit or gear. When you have changed, roll the mat and contents into the 60-liter dry bag and close. Water will not escape and the smell will be trapped inside.
The Malo'o Changing Bag is light, durable, and waterproof. Regular changing mats with cinch cords leak and don't protect you from the damp and musty smell. Plastic bins can contain the smell, but trying to undress in one is best let for the clowns. Grass mats feel good between the toes but are a pain to put away and store.
When not changing, you can use the Roll-Top duffle for other epic adventures. A regular zipper-top duffel bag can't keep out driving rain, sleet, raging waters, or other natural elements. That's why we made our roll-top waterproof bag to provide IPX6 waterproof protection. Constructed on commercial-grade 500D PVC for superior performance and durability, Malo'o waterproof dry bags have thermo-welded seams for even the most extreme conditions.
Available in three colors.
After getting out of freezing water what do you want more than anything else? Hot Water!
The Malo'o Surf Hot Water Rinse Jug Bag is a combination of our extremely popular backpack cooler and a 2.5-gallon jug. Our cooler bag has phenomenal insulation properties and not only keeps things cold but it can keep them very hot as well. Fill up the water jug with hot water, place it in the thermal bag, close it up, and go surf, dive, swim or paddle. The Malo'o jug and bag will keep your water hot until you get out of the water. Yes, a cooler keeping water hot!
Whether you are going surfing, paddleboarding, swimming, a hot rinse afterward is priceless. Fill the 2.5-gallon jug with as much hot water as you need, place it in the cooler bag, roll the top and head out for epic adventures.
The 3-in-1 Surf Jug will keep the water hot for hours. The best part? It's another multiple-use product from Malo'o. When you don't need hot water, pack 18 bottles or 24 cans and ice in it and you have a closed-cell all-day cooler! Don't need cold beverages or hot water? It's also a great dry bag. There are convenient pockets for your phone, keys and wallet and it's hands free. It's a backpack so cold or hot you have your hands free and it is available in three colors.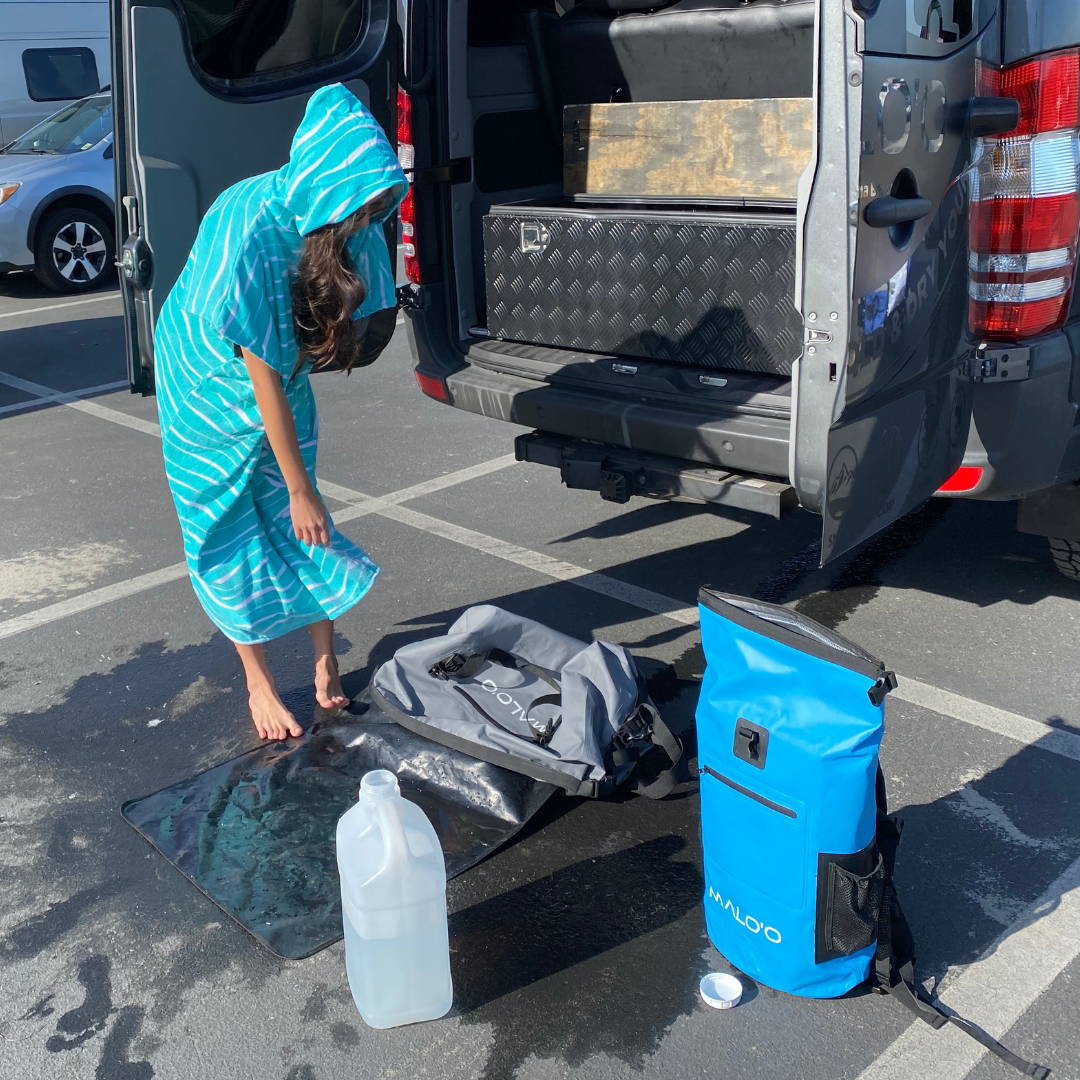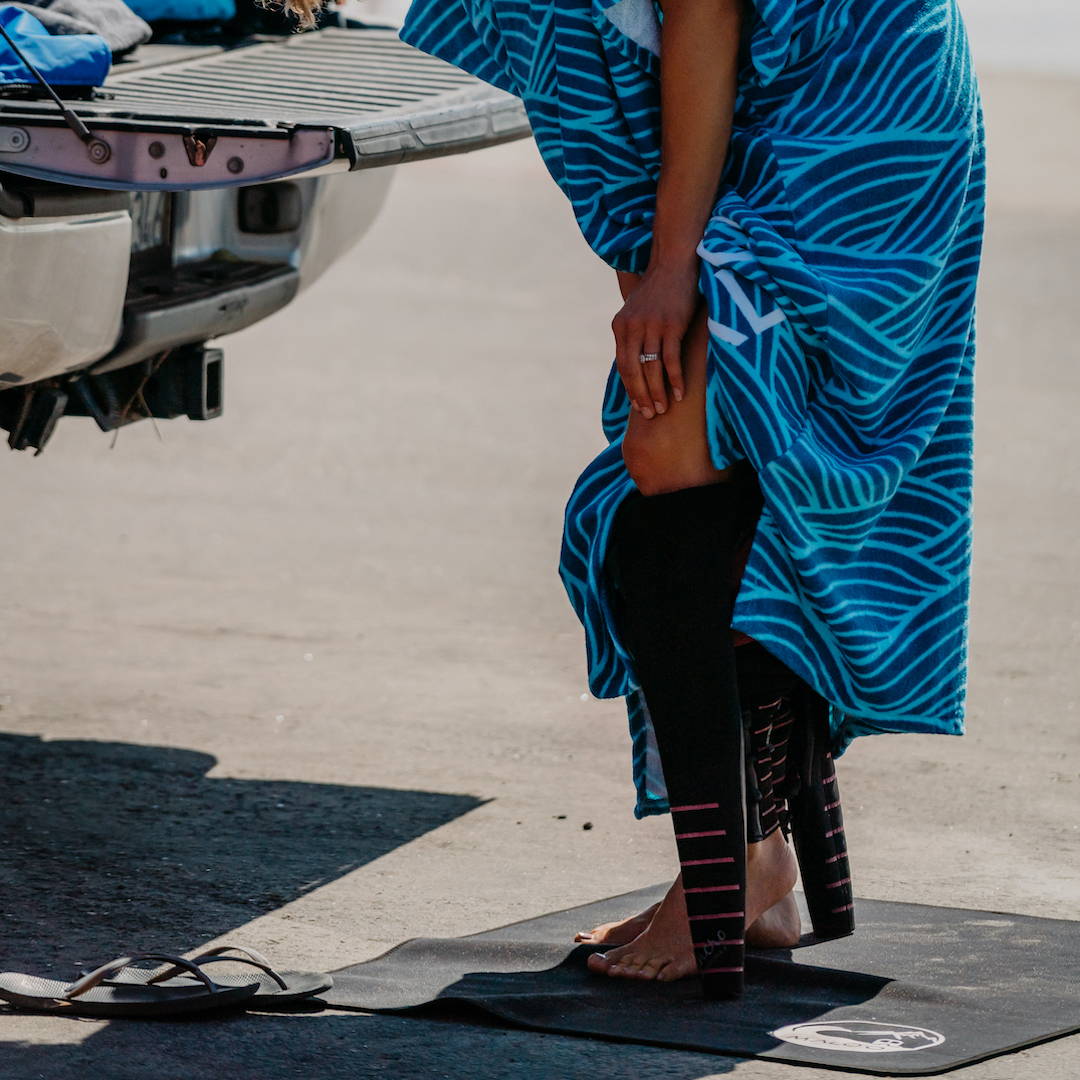 Protect Your Wetsuit, Scuba Gear and Feet
The Malo'o Neoprene Wetsuit Changing Mat is a large mat measuring 36" x 30" designed to protect your wetsuit, scuba gear, or sports gear and feet from the rough and sharp ground. Quick-drying and lightweight, this durable changing mat is 4mm thick and tough enough for any environment. Dirt, mud, and saltwater can easily be removed. Simply rinse the changing mat with clean water and let it hang dry.
Great for camping, RVing, or boating to use as a welcome mat, outdoor shower mat, or almost anything else you can think of. Includes a compact mesh bag for easy storage. It's quick-dry, lightweight, super-soft neoprene with reinforced edges for durability, completely waterproof with a nylon mesh drawstring bag for storage
Just looking for the basics? A great black neoprene mat is it!
This mat is will add life to your wetsuit and is easy to roll out and put away.
The Malo'o Portable Shower Bag is perfect for surfing, camping, hunting, hiking, kayaking, biking any outdoor adventure where you get sweaty and dirty and would love a shower. You can pay up to $400-$600 for fancy portable showers but why when a simpler one will work? Simply fill the bag with up to 5 gallons of water and hang it in direct sunlight. The solar absorption bag will heat the water in a matter of hours. Then simply adjust the shower valve and let gravity provide you with a refreshing shower. Simply collapse and roll up and store in the mesh bag for next time.